Tablet TV viewing to be measured for the first time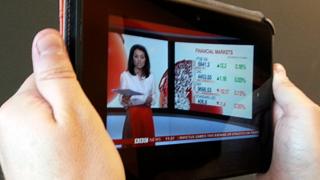 Television viewing on iPads and Android tablet devices is set to be measured for the first time, it has been announced.
Barb, the body which gathers TV audience data, said it now has the ability to electronically monitor viewing habits on tablets.
The first "capture" was made last month, with data likely to be released for the first time early next year.
It is estimated that 2% of TV viewing time is spent online and on computers.
Barb collates viewing figures through a number of private homes or panels which aim to accurately reflect TV habits across the UK. They are each representative of 5,000 homes.
The new technology will enable panellists' viewing habits on tablets to be tracked.
It will be initially rolled out to panel homes that already have software installed for monitoring TV time on desktop and laptop computers.
Around half of these homes already have tablet devices that require additional monitoring.
The first viewing session that Barb monitored took place in August when a panellist watched an episode of Guy Martin's Passion for Life on Channel 4's 4oD app on an iPad.
Justin Sampson, chief executive of Barb, said that when data was considered robust enough, separate reports about tablet viewing would be published.
He added that the organisation may consider ways of incorporating the information into TV viewing figures.
Catch-up TV and online TV viewing figures were included in the the overall data for the first time last year.
Barb are also investigating the possibility of setting up a panel for homes with no TV set but a Broadband connection to monitor their viewing habits.
Despite the rise in the use of computers and tablet devices to consume television, traditional sets hold sway, being used to watch 55 minutes of television per day.
Mobile devices are used for just three and a half minutes, according to research published earlier this year.