Forbidden Broadway 'only spoofs hits' says show writer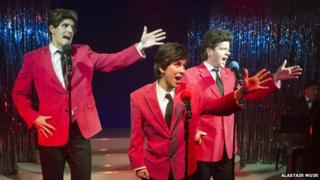 Comedy show Forbidden Broadway, which sends up West End musicals, "only spoofs hit shows" its creator has said.
Writer Gerard Alessandrini, who first performed the show off-Broadway in 1982, said actors and directors "loved it because its not really anything harsher than what critics say".
The show has opened at the Vaudeville Theatre in London after transferring from the Menier Chocolate Factory.
Stars including Barbara Windsor and Robert Lindsay were in the audience.
Lindsay's performance in the hit show Dirty Rotten Scoundrels , performed in the Savoy Theatre, across the road from the Vaudeville, was sent up as he was portrayed as a scene-stealing ham.
Other performers who were spoofed by the talented cast of four actors included Liza Minnelli, Bernadette Peters and Wicked stars Idina Menzel and Kristen Chenoweth.
Recalling the show's initial run at Palsson's Supper Club in New York, 32 years ago, creator Alessandrini said: "We were nervous, we thought, 'Will they really be insulted?'.
"I remember (famed Broadway producer) Hal Prince was not happy were spoofing his show (Merrily We Roll Along) but I remember Hal came with his family and he sat there sternly, like, 'I'm going to be mad at you' and then he laughed and laughed during the show and he came backstage and he said he loved it."
The London Theatre review from Monday's opening night praised its "slick production as the cast move from show to show and costume to elaborate costume. Their voices are all excellent and they perform with gusto, but when you consider they've starred in many of the original shows it's no surprise".
Reviewed by many of the broadsheets prior to its West End transfer, the Telegraph said in July that Forbidden Broadway features "parodies of the great warhorses of musical theatre so sharp that they bring tears to the eyes".
Producer Sir Cameron Mackintosh and Stephen Sondheim are both sent up, while The Lion King, Matilda and Charlie and The Chocolate Factory are all critiqued by the actors.
"We are only spoofing people that are hits, that are stars," said Alessandrini. "It's not like we're knocking anybody who was down, so to be included in that company was like saying you're one of the icons of Broadway and that's been true over the years".
'Fresh material'
Other stars in the audience on the first included comedian Frank Skinner, League of Gentlemen star Steve Pemberton and actress Jill Halfpenny.
While some of the shows spoofed have been running for many years including Les Miserables and Wicked, new shows such as Once - based on the Oscar-winning film and Book of Mormon are also firmly in the writer's crosshairs.
Alessandrini said he enjoyed the challenge of keeping the show fresh after more than tree decades.
"I welcome new hit musicals because it gives us fresh material, it's hard when there aren't new ones.
"We did some new ones just for the west end, I love doing that when we're here, I've added Dirty Rotten Scoundrels and we've done a spoof of the new version of Miss Saigon. I do enjoy spoofing Book of Mormon, finding a way to get that show because, in itself, that's a spoof.
While some may accuse some of the show's icy barbs of going too far, Alessandrini - whose honours include a Tony award for excellence in theatre in 2006 and four Drama Desk awards insisted: "It does come from affection."
He added: "I know how hard it is to put a show together, I understand how hard the actors work, so I do love it and I think its sort of a backhand compliment."
Forbidden Broadway runs until 22 November.