Cat Stevens cancels New York date over ticket tout concerns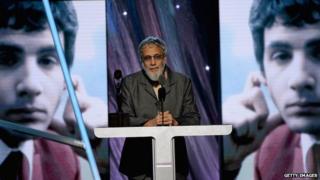 Musician Cat Stevens - also known as Yusuf Islam - has cancelled a date on his US comeback tour over concerns about ticket touts.
The singer shelved his New York performance in December because tickets with "extortionate" prices began appearing on resale websites.
Stevens said he supported paperless ticketing to "avoid scalpers".
The five-date tour, his first in the US since 1976, will kick off in the Canadian city of Toronto on 1 December.
The singer, known for his hits Morning Has Broken and Wild World, will also visit Boston, Los Angeles, San Francisco and Chicago .
The 66-year-old, who refers to himself as Yusuf/Cat Stevens, wrote on his Facebook page: "Unfortunately New York has a state law that requires all tickets sold for shows in New York City to be paper, enabling them to be bought and sold at inflated prices.
"I'm sorry about not being able to now play in New York City but hope to find an opportunity that aligns with my support of this issue in the near future, God willing.
"Looks like the Peace Train is going to arrive at New York a little bit later than expected," he added, making reference to the name of his tour and 1971 hit.
US 'obligation'
Stevens, who had a number of hits during the 1960s and '70s, converted to Islam in 1977.
The British-born singer, who now lives in Dubai, is due to release a new album on 27 October - his first in five years.
He said of his return to performing in North America: "I've been a bit slow in coming around to the United States, but there were so many people asking me to do that, that I just felt an obligation."
Stevens has previously said he is not concerned about his faith becoming an issue when he resumes touring in the US.
"I'm afraid that a lot of things that people believe about Islam are totally different from the religion that most of us recognise," he said.
"I was really fortunate that I got to know Islam before it became a headline."
His tour will also take in a further six concerts around Europe, including one in the UK at London's Hammersmith Apollo.