Magical Girl wins top film award at Spanish festival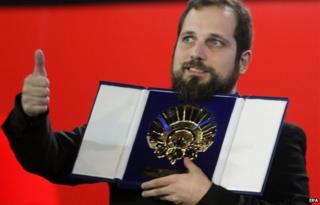 Spanish director Carlos Vermut's Magical Girl has won the Golden Shell for best film at the 62nd San Sebastian Film Festival in Spain.
Vermut, 34, himself also picked up the coveted best director award.
The movie is a crime drama in the film noir tradition, set in Madrid and with references to Japanese manga comics.
Jury chairman Fernando Bovaira said Vermut - for whom Magical Girl is his second feature - was "an unsettling voice".
Vermut's first feature was Diamond Flash.
Magical Girl tells the story of Alicia, an ill child whose doting father goes in search of a gift for his daughter but finds himself embroiled in a blackmail plot.
It stars Luis Bermejo, Jose Sacristan, Barbara Lennie and Lucia Pollan.
"Cinema is a trip you don't embark upon alone,'' said Vermut.
Javier Gutierrez won the best actor award for his role as a policeman on the trail of a brutal killer in Alberto Rodriguez's thriller La Isla Minima (Marshland).
Danish actress Paprika Steen won best actress for her role in Stille Hjerte (Silent Heart), directed by fellow Dane Bille August.
At the festival, Hollywood actors Denzel Washington and Benicio del Toro were also honoured with the Donostia Award acknowledging their careers.
The Donostia Award has been given out each year at the festival since 1986 to "a great film personality in recognition for their work and career".
Past recipients include Gregory Peck, Bette Davis, Susan Sarandon, Meryl Streep, Richard Gere and Robert De Niro.