Hozier: 'I find the attention quite jarring at times'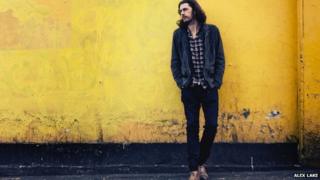 Catapulted on to the international stage following 2013's Take Me To Church - a love song which scrutinises religion - Irish singer-songwriter Hozier has said he "never imagined" the whirlwind of success that followed.
Up until last year, Andrew Hozier Byrne's musical journey had been a gradual one. Born in rural county Wicklow, Ireland, the son of a blues musician, he attended Trinity College, Dublin to study music.
But a lack of enthusiasm for the theory of music and a desire instead to write and perform saw him drop out of the course in his first year. After a spell touring with the Irish choral group Anuna and a broken relationship, he retreated to his parents' attic where the foundations of his debut record were laid.
The release of Take Me To Church, from his first EP, in September 2013 garnered half a million YouTube views in its first week (it now has just under 12 million) and brought invites from the most-watched US chat shows including David Letterman and Ellen DeGeneres.
You are currently on a tour bus driving through America. The US has been a big fan of yours since you performed on the Letterman and Ellen shows earlier this year - and all because of just one song, Take Me To Church. Did you expect such hype off the back of just one track?
Not at all. At the time it felt terrifying and I was afraid that it was too soon. It was one of our first trips to New York and I came away from those performances thinking I could have done better. But those performances did fantastic things for us and I'm much more confident now.
It reached number one in Europe and the US adult alternative Billboard chart and is now sitting with almost 12 million views on YouTube. Do you worry about over exposure?
Not all that much. With the success of one song I certainly was concerned - I still am at times - that people wouldn't look beyond that song, or people would look to my debut album and not hear that song and be let down by that.
But the album reflects me and my interests as honestly as possible and I have to trust that. I'm very fortunate with America in that the song is starting to be played on Billboard Top 40 stations.
It's great but strange! It's a surreal experience filming promotion with Ryan Seacrest and meeting Top 40 pop artists. It's not what I set out thinking this would be. In that regard I don't know how the album will go down with a younger Top 40 audience. But my priority is making music I'm proud of.
The song has a very topical subject matter and the video, directed by Brendan Canty, shows a gay couple kissing before being chased and attacked. Was it your intention to court controversy?
The core of the song is about how organisations like the Catholic Church undermine what it is to be human and love somebody else. [Lesbian and gay Catholics are called on by the church to live chaste lives]. For the video I wanted to capture something that had the sentiment of the song but not to make it about the church.
It's dramatically filmed but we didn't exaggerate or embellish what is going on in Russia [with LGBT people]. Most of the controversy stems from YouTube comments and that section is often like a public toilet wall. Most people were more upset that men were kissing than somebody was kicked to death. So, in that regard, I don't deem the video controversial.
Are you religious?
Religion wasn't imposed on me. I dabbled with faith and I explored religion quite thoroughly. No is the short answer but I'm acutely aware of the legacy and the history and the culture that hangs in the air from an organisation like the church. It pervades a huge amount of society down to the language and the mentality.
Your Dad was a blues musician. Was the music you heard at home a big influence on you growing up?
Blues music was a big part of my life from an early age. I was introduced to The Blues Brothers at the age of three. I watched it like [children watch] a Disney film and that led to a fascination with Chicago Blues. By the time I was in my teens I was listening to Delta Blues and Jazz. Singer songwriters like Tom Waits and Nina Simone were also huge influences.
When did you decide you wanted to be a performer?
I was singing from the age of about eight but I was never comfortable singing in front of a crowd. When I was 15 I realised the voice translated into a deeper voice and I started singing in school. I enjoyed it so I was drawn to exploring it.
I joined a covers blues band and around that time I learned how to play guitar, just teaching myself and then I began penning lyrics. I'm still finding my feet in many ways as a performer.
I'm not an extrovert and certainly the attention isn't what drew me to it and I find that quite jarring at times. I used to stress a lot about shows and get palpitations before shows but eventually you learn to love it and it is a thrill.
Your voice is an interesting mix of powerful and soulful and soft and delicate, depending on whether you are singing the blues or folk. Did you try to emulate the artists you listened to growing up, or did you take time to discover your own voice?
I hadn't discovered a lot of that music or fed that fascination when I started singing at eight years old. But in the same way with speaking you pick up the accents of people around you, when you listen to a lot of the same music you pick up those inflections.
I never tried to be too affected. My influences are very diverse so the songs swing from soul-pop or gospel-pop while others are straight up blues or folk. I think my sound is a gothic, southern sound. The artist Cold Specks coined the term doom-soul for her music, which I love.
Not all of the music on the record is doom-soul but I love that expression and I think some of could be described as doom-folk.
So what comes next? Will you be decamping to New York or LA?
Not yet! I'm looking forward to having some time to work on my second album. I know how hard the second album can be. But I also know that I'm gong to be touring for the next year of my life. So before all that I'd like to get something small out, like an EP, until I can take time off. It's very hard to write on the road but ideas are ticking away.
Hozier, the debut album, is released on 6 October.