Willie Nelson's braids are snapped up at auction for $37,000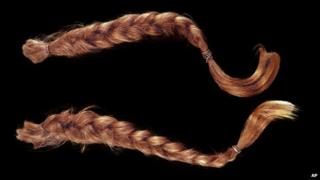 US singer Willie Nelson's distinctive braids have sold for $37,000 (£22,955) at an Arizona auction.
The country musician's trademark tresses were coloured red when they were snipped off in the early 1980s.
They belonged to late singer Waylon Jennings, who was given the hair to mark his decision to stop drinking at a party held by Johnny Cash.
Nelson, now aged 81, still maintains his famed plaits - but they have since gone grey.
The singer's hair was among a whole host of items belonging to Jennings, who died in 2002.
A motorcycle which originally belonged to Buddy Holly also went under the hammer for $450,000 (£279,400).
It was given to Jennings after the singer's death in 1959.
Nelson and Jennings worked together on a number of records, including duets Good Hearted Woman and Mammas Don't Let Your Babies Grow Up to Be Cowboys.