Donmar Warehouse all female Henry IV 'commendable'
A new production of William Shakespeare's Henry IV, starring an all-female cast, has had warm reviews at the Donmar Warehouse in London.
The women's prison set play, directed by Phyllida Lloyd, was "grungy and rebellious" said the Evening Standard.
Harriet Walter, as King Henry, was praised by the Arts Desk for her "quiet performance".
The Daily Mail said the production, combining parts one and two, was "more commendable than enjoyable".
Critic Patrick Marmion said of the production's prison setting: "Emergency exits, meanwhile, replace the theatre's normal entrances and are patrolled by prison officers.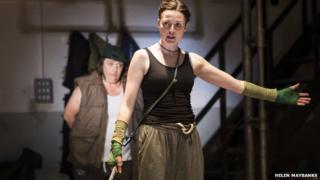 "One thing's for sure, we are confronted with 'real women' of all shapes and sizes. They could easily have been recruited from a Scotland Yard identity parade.
---
By Kevin Geogheghan, BBC entertainment reporter
This is an exuberant Donmar production, blending the traditional Shakesperean text with modern turns of phrase in line with the play's prison setting.
It can however, produce something of a jolt to be ripped from the moment by a prison siren or an inmate storming off stage in protest at someone 'not sticking to the script'.
Clare Dunne, using a broad Dublin accent, is convincing as she goes from teen troublemaker to monarch-in-waiting over the condensed two-hour production, while Harriet Walter provides a seasoned world weary King Henry.
Special mention also goes to Jade Anouka, whose rebellious Hotspur is reborn as a shadow boxing London rudegirl and Ashley McGuire is a riot as the corpulent Falstaff.
She draws much appreciative laughter from the audience, making Hal's ultimate rejection of him, a scene which bleeds again into the prison 'real world', a difficult watch.
---
"Harriet Walter in particular as the prison Don, who plays Shakespeare's usurping King Henry, really does have the look of a leathery old lag."
Praising the cast, which includes Cynthia Erivo from I Can't Sing! The X Factor musical and Scottish comedian Karen Dunbar, the Arts Desk's Alexandra Coghlan said: "There's a pleasant friction to hearing the insults of the battlefield and tavern - "like a sick a girl"; "a woman's mood"; "you are a woman, go" - in the mouths of this muscular, assertive troupe of women."
Ashley McGuire was "a superb Falstaff" said the Evening Standard's Henry Hitching, "mixing the predatory swagger of a wheeler-dealing geezer with notes of vulnerability, while Sharon Rooney from television's My Mad Fat Diary makes a memorable stage debut as Hotspur's affectionate wife".
The play is the second in the Donmar's planned trilogy of all-female Shakespeare productions with director Lloyd. The first was Julius Caesar, which also starred Walter in the title role, which opened in 2012.
In a three-star review for The London Theatre Guide, Mark Shenton noted the plays' parallels, saying: "That prison setting, also employed for Julius Caesar, does however become a bit of a wearying trap for this version.
"We're constantly reminded, too, that it's a show-within-a-show that we're watching, and that creates distance; it's all play acting. In colour blind casting, you aren't supposed to see the race of the actor you're watching, but here we're not so much gender-blind as made strenuously gender-aware by it all."
The Telegraph's glowing four-star review, however, said: "If it's empowering for a woman to play a man then it's also liberating for a man to watch a woman do so: the emphasis shifts to the similarities between the sexes, and the ubiquity of power struggles."
Henry IV runs until 29 November.