David Peace's Damned United donation boosts theatre company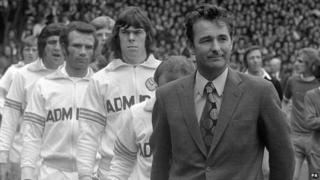 Author David Peace has donated the stage rights to The Damned United, his novel about Leeds United FC, to a Leeds theatre company that has lost its annual Arts Council England funding.
The acclaimed book followed Brian Clough's brief spell in charge of the football club in 1974.
It will now be staged by Red Ladder theatre company, whose £161,000-a-year grant is due to end in 2015.
Peace said Red Ladder had been "so helpful and inspiring" to him.
The Damned United has already been adapted for a feature film, which starred Michael Sheen as combative manager Clough and was released in 2009.
Peace has sold the stage rights to Red Ladder for a nominal fee of £3.68 - a penny for each of the book's 368 pages.
Red Ladder was formed in 1968 and regularly tours the UK, with its plays often delivering a left-wing political message.
But its future was left in doubt after the Arts Council announced it would scrap the company's annual funding from next April.
Paying back
Monty Python's Terry Jones and comedian Phill Jupitus have also lent their support to the company, which is running a fundraising campaign under the slogan Save Red Ladder.
In a statement, Peace said he had received "inspiration and support" from Red Ladder artistic director Rod Dixon and producer Chris Lloyd, and had been a member of their Red Writers' Group.
"They were so helpful and inspiring when I was writing Red or Dead," he said, referring to his 2013 novel about former Liverpool manager Bill Shankly.
"Offering the theatrical rights for The Damned United for the minimum amount possible was THE VERY LEAST I COULD DO to try, even in a such a small way, to help Save Red Ladder."
Red Ladder's fundraising campaign has raised £12,000 of its £80,000 target, which will go towards staging The Damned United.
The company's only other annual funding is £5,000 that comes from Leeds City Council.