Gone Girl retains UK box office lead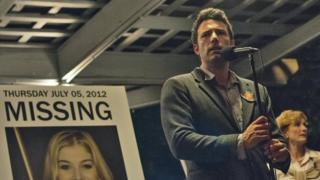 Thriller Gone Girl has remained firm at the top of the UK box office for the second week, taking more than £3m.
The suspense-laden literary adaptation, starring Ben Affleck and Rosamund Pike, easily held off newcomer The Maze Runner, which made £2m.
Pre-Halloween horror flick Annabelle made its debut at three with takings of £1.9m.
One Direction's concert film Where We Are entered the chart at four with a box office haul of £1m.
The boy band's exploits were shown in screens on just Saturday and Sunday, while encore screenings later this week are likely to boost its takings towards the £2m mark.
The only remaining new entry in the top 10 was The Rewrite, a romantic comedy starring Hugh Grant as a washed-up screenwriter and Marisa Tomei, which made ninth spot.
Animated caper The Boxtrolls boasts the highest cumulative total on the week's rundown, with £6.7 million after five weeks of release.
Gone Girl, which is based on the best-selling novel by Gillian Flynn, has also topped the box office in North America, taking £16.6 million in its second week at number one.
It tells the story of a writer - played by Affleck - who becomes a suspect when his wife goes missing.
UK and Ireland box office top five
1. Gone Girl - £3m
2. The Maze Runner - £2m
3. Annabelle - £1.9m
4. One Direction: Where We Are - £1m
5. Dracula Untold - £847,958