Channel 4 plans Islamic State fighter drama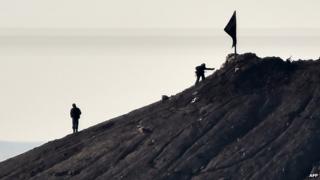 A drama about British Muslims who sign up to fight for militant group Islamic State is being developed by Channel 4.
Peter Kosminsky, the British writer and director behind topical dramas Britz and The Government Inspector, is directing the programme.
Channel 4 said the currently untitled drama is in the "very early stages of development" but should go out in 2016.
Production on the drama, which will feature fictional characters, is expected to begin next year.
A Channel 4 spokeswoman said the drama would "seek to cast light on why a small number of British-born Muslims might be tempted to travel to Syria or Iraq to live in and fight for the self-declared Islamic State (IS)".
Kosminsky, she continued, will shortly begin "an extensive six-month research process" before writing the drama.
Channel 4's representative said Kosminsky's previous work showed he had "an unrivalled track record of tackling sensitive subject matter".
The Bafta-winning writer, whose other credits include 2011's The Promise, is currently directing Wolf Hall, the TV adaptation of Hilary Mantel's Man Booker-winning novel.
Islamic State, aka IS or Isis, is a radical Islamist group that has seized large swathes of territory in eastern Syria and across northern and western Iraq.
It is estimated that more than 12,000 foreign nationals from more than 80 countries have travelled to Syria to fight over the past three years.