Ben Elton inspired by Michael Gove Blackadder criticism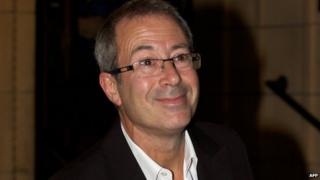 Writer and comedian Ben Elton has said his most recent novel was partially inspired by Michael Gove.
Former education secretary Mr Gove said Elton's TV sitcom Blackadder Goes Forth, which he co-wrote with Richard Curtis "perpetuated left wing myths about World War 1".
Elton told Radio 4's Front Row that Mr Gove's comments were "clearly idiocy", adding the show was "well researched".
His new book Time and Time Again sees a man travel back in time to stop WW1.
Blackadder Goes Forth, set in the trenches and starring Rowan Atkinson as the titular scoundrel Edmund Blackadder, was first screened in 1989 and is generally regarded as a TV classic, winning the Bafta for best comedy series.
Writing in the Daily Mail in January, Mr Gove said the comedy "portrayed the conflict as a series of catastrophic events perpetrated by an out-of-touch elite".
Elton, who has written several best-selling novels, was scouting around for inspiration when the cabinet minister made his comments.
"I had been toying with the idea of writing a novel about the causes of the First World War but I certainly got some lead in my pencil when myself, Richard and Rowan Atkinson were all being blamed for a lack of respect for WW1 because of Blackadder," he said.
His new novel Time and Time Again is a swashbuckling adventure story which follows ex-soldier Hugh Stanton as he travels back through time to the summer of 1914 in a bid to stop the Great War.
The historical detail is mixed with science fiction and satirical humour.
"I think what Michael Gove said is clearly idiocy," said Elton. "Blackadder is well researched, it's a comedy, it's a satire, it satirises history which is a long and honourable British tradition.
"Blackadder was deeply respectful to the good things about WW1, which are, of course, that it showed the magnificent strength of the human spirit, the ability to love, loyalty and love of country."
The British-born comic, who now lives in Western Australia with his wife and three children, is in the UK promoting his new novel.
He said that he'd love to move back to London once his three children had finished school.
The full Ben Elton interview can be heard on Front Row on Wednesday 5 November at 1915 GMT.