Royal Drawing School is established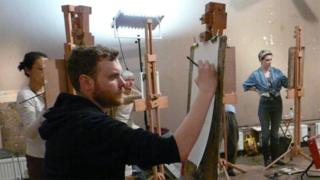 The Royal Drawing School has been founded in London, becoming the first arts institution to be granted the title by the Queen since 1956.
Founded by the Prince of Wales and formerly known as the Prince's Drawing School, it joins an elite band including the Royal Academy.
The Prince, who visited its main campus, pledged it would still be "open to all, regardless of background".
The school has received a new logo featuring Charles' crest of feathers.
The institution, which was founded in 2000, now teaches the skills of observational drawing to some 1,000 students per week .
Prince Charles is known to be a keen artist and said during Tuesday's announcement: "It is my firm belief that drawing is one of the most direct ways of engaging with the world and, like music and dance, needs to be taught and practised throughout an artist's life.
The school said its new title and status reflected its academic excellence and would serve to reinforce its place in the education landscape.
Catherine Goodman, artistic director of the school and co-founder, said she was "very proud" of its progress.
"I'm more and more persuaded of the need for a drawing school as a permanent part of the UK's educational resources," she said.
Artist Grayson Perry said he was "delighted" by the news.
"Drawing remains a skill that is as important and relevant as ever," he said. "We don't have a USB port in our head and drawing is most direct way we have of expressing our visual imagination to the outside world."
Earlier this year, the school opened a new set of studios on Oxford Street in central London, becoming its fifth campus in the capital.