Peter Firmin: I'm surprised that people still remember us with affection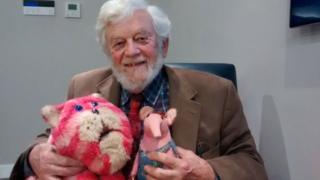 As animator Peter Firmin prepares to receive a special Bafta honour, he reveals how the new Clangers TV series is shaping up and explains why he never wants to remake Bagpuss.
Within seconds of arriving for our interview, Peter Firmin produces a saggy, old cloth cat from a box and plonks him on the table with a soft thump.
"He's not fragile, he's a tough old cat, but he's still a bit floppy and loose at the seams."
This is the original Bagpuss puppet from the children's TV series Firmin co-created with the late Oliver Postgate in 1974.
"It's his 40th birthday this year," says Firmin. "He came into my head as a marmalade cat, but it was a mistake in the dyeing process that he turned out to be pink - which is the best thing that ever happened."
Next to Bagpuss, Firmin places one of the Clangers - the pink knitted aliens from the late 1960s who have never been forgotten by the generation who grew up with them.
When the robot probe Philae landed on Comet 67P last week social media was abuzz with jokes about it sending back a photograph of the Clangers - who eke out a threadbare existence in burrows on a small cratered planet in outer space.
"I'm surprised that after all these years people still remember us with affection," says Firmin, 85, who on Sunday will pick up a special award at the Children's Baftas, recognising his outstanding contribution to children's media and the entertainment industry.
The award will be presented by Bernard Cribbins, with an introduction by Michael Palin, who narrates a new version of The Clangers due to air on CBeebies in 2015.
Postgate's son Daniel is writing the scripts for the new version, with Firmin as an executive producer. Like the original series - which also featured characters such as the Soup Dragon and the Froglets - the new episodes are being made as stop-motion films with real puppets.
"I've seen them and held them. They are very similar to the original ones," says Firmin, adding that the 21st Century Clangers will have the ability to "leap about".
"People will see it as a modern version of the same thing. We insisted on no computer generated images. They've got a team of ladies knitting the puppets. I've seen rushes, and they are brilliant, and everyone loves them."
Firmin admits he's not a huge fan of computer generated animation. "I don't like CGI very much because it's a bit dead. When you see some of these computer generated humans you look into their eyes and you think there's no soul there."
Firmin and Postgate's working partnership lasted some 30 years. Postgate, who died in 2008, ran the company Smallfilms with early output that included Ivor the Engine and Pogles' Wood.
Firmin made the puppets and sets, while Postgate wrote the scripts and did the animation. Most of their films were made in barns on Firmin's farm in Blean, near Canterbury in Kent, where he still works as an engraver and printmaker.
"For us it was a little cottage industry," Firmin says. "We worked together very well and although we had our differences from time to time it was because Oliver saw things different to me because he was left-handed and I was right-handed."
He compares himself and Postgate to another of their early animations. "Oliver was Noggin the Nog - the polite and gentle king of the northlands. I was Thor Nogson - his not very fierce captain of the guard, always one step behind and a bit grumpy."
With The Clangers set to return to the small screen, how much would Firmin like to see Bagpuss resurrected for a modern audience?
"We're pretty definite that we don't want anyone to remake Bagpuss. Those 13 films are part of many people's childhood. I think we would be very unhappy with someone trying to remake them, because there would be something missing.
"Dan Postgate had an idea that they could be remade in a New England setting for the American market. But I don't really want to think about that.
"I can't imagine Bagpuss being anything but an Edwardian cat."
The Bafta Children's awards take place on Sunday 23 November at London's Roundhouse.