Stephen Fry joins Danger Mouse voice cast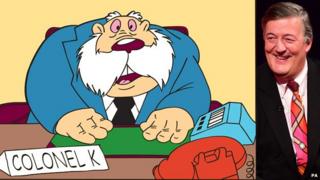 Stephen Fry will be part of the cast of Danger Mouse when the cartoon favourite returns to TV next year.
The broadcaster and actor will voice the role of veteran spy Colonel K, a character voiced by The Archers actor Edward Kelsey in the 1980s original.
Alexander Armstrong will voice Danger Mouse himself in the CBBC series.
Fellow Pointless regular Richard Osman will also have a role in the show - as a jellyfish scientist called Professor Strontium Jellyfishowitz.
The TV quizmaster said he "could not be more delighted" to be involved, describing himself as "a lifelong fan" of the programme.
Kayvan Novak, from Channel 4's Facejacker, will play a number of different characters in the new version, while Ed Gaughan will play amphibious villain Baron Silas Greenback.
Kelsey, who plays Joe Grundy in Radio 4's The Archers, also voiced Baron Greenback in the original show, which ran on ITV from 1981 to 1992.
The new series, a co-production with FremantleMedia, will initially run for 52 episodes.