Lars von Trier unsure over film future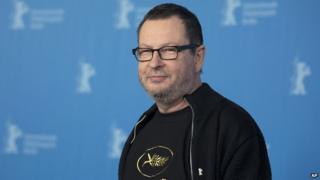 Danish film director Lars von Trier fears he will not make any more films now he is no longer taking drugs or drinking alcohol.
The controversial film-maker, whose films include Nymphomaniac and Breaking the Waves, revealed his concerns in an interview with Danish paper Politiken.
He told the broadsheet he no longer drank a bottle of vodka a day or took "narcotics".
"I don't know whether I can make more films. And that haunts me," he said.
"No creative expression of artistic value has ever been carried out by former alcoholics and drug addicts," Von Trier told the newspaper.
It was his first interview since Cannes Film Festival organisers banned him from their event in 2011 after he joked he was a Nazi at a news conference to promote his science fiction film Melancholia.
Von Trier said he was 90 days sober on Sunday, adding he attended meetings at Alcoholics Anonymous every day.
Palme d'Or
He was quoted by the newspaper as saying he used to drink a bottle of vodka every day but to be creative he combined the alcohol with different kinds of drugs.
"I can't recommend anyone to do the same. It is very dangerous and stupid in every way," he said.
The director is perhaps best known as a co-signatory of the Dogme 95 manifesto - a "vow of chastity" he made with three fellow Danish film-makers.
Their films, they declared, would strip away artifice by being shot on location using natural light and handheld cameras.
In 2000 Von Trier won the Palme d'Or with Dancer in the Dark, a musical starring Icelandic pop star Bjork as a woman who ends up on Death Row.
His other films include Dogville, Manderlay and 2009's Antichrist, which whipped up a furore at Cannes with its explicit sex scenes and graphic violence.
Von Trier's most recent effort, the lengthy and sexually-explicit Nymphomaniac Director's Cut - Volume I and II, has been nominated for best film at the European Film Awards.
The awards will be handed out on 13 December in Riga, Latvia, this year's European Capital of Culture.
Von Trier won the award in 2011 for Melancholia.