Morgan wins first round against Walmart in crash suit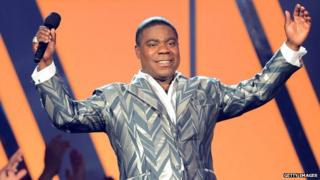 A judge has refused to delay Tracy Morgan's legal action against retail giant Walmart over a car crash in which the 30 Rock comedian was injured.
Kevin Roper, who was driving the truck that crashed into Morgan's vehicle, wanted to postpone proceedings while he faced separate criminal charges.
But Morgan's legal team accused Walmart of attempting to stall the trial.
He is claiming compensation from the retailer for negligence in requiring Mr Roper to drive while fatigued.
Mr Roper had not slept for more than 24 hours when he collided with Morgan's limousine bus on the New Jersey Turnpike last June, according to court papers.
Comedian James McNair died in the crash, while Morgan suffered a traumatic brain injury and broken bones.
Mr Roper, who is not named in Morgan's action, has been charged with death by vehicle and four counts of assault by vehicle.
Morgan's attorney, Benedict Morelli has said the 46-year-old is "fighting to get better" but it is uncertain whether he will fully recover.
"We're hoping and praying to get him back to where he was," said Mr Morelli. "But the jury's out."
A preliminary investigation by The National Transportation Safety Board found Mr Roper was travelling at 65mph (105 km/h) in a 45mph construction zone.
Walmart have contended that Morgan's injuries and McNair's death were partly their own fault because they were not wearing seatbelts.