The Hobbit finale dwarfs UK box office rivals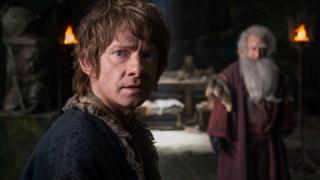 The third and final instalment of Peter Jackson's Hobbit series, The Battle of the Five Armies, has topped the UK box office in its opening weekend.
The film made £9.7 million, marginally outperforming the previous two chapters in the saga.
An Unexpected Journey took £9.5 million on its debut in 2012, while last year's Desolation of Smaug took £9.3 million.
Paddington, which had been at the top of the charts for two weeks, was bumped into second place with £2.9 million.
The Hunger Games: Mockingjay Part 1, which has now earned more than £27 million in the UK alone, came in third.
UK and Ireland box office
1. The Hobbit: The Battle of the Five Armies - £9.7m
2. Paddington - £2.9m
3. The Hunger Games: Mockingjay - Part 1 - £1.09m
4. Penguins of Madagascar - £1.05m
5. The Imitation Game - £534,554