Making a Christmas special 'special'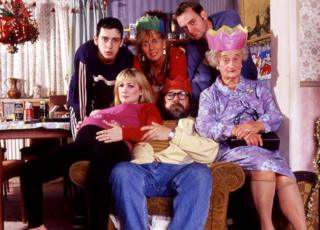 Christmas comes but once a year. That's a huge relief if your festive episode is expected to be one of the year's biggest TV highlights.
"Eric Morecambe and Eddie Braben [Eric and Ernie's principal writer] used to tell me that they started thinking about the Christmas shows in January," recalls Barry Cryer, who wrote on Christmas specials for both Morecambe and Wise and The Two Ronnies.
"But every time they created a great Christmas show, they'd create stress for themselves.
"'How do we top that?' They became obsessed with competing against themselves year after year."
So what makes a truly memorable Christmas special? Some of those responsible for past festive hits talk about the benefits of including a few key themes.
---
1) It doesn't have to be about Christmas
Eric Morecambe, for many viewers the most familiar face on TV, had a strategy for preparing his now legendary Christmas Day specials with Ernie Wise.
"He told me he didn't want a tree, Santa Claus, reindeer - none of those," recalls Cryer "because he wanted money for the repeats. He had a point - the show was shown again the following Easter."
Many of Only Fools and Horses' memorable 25 December outings were based on non-festive storylines.
"There is a big difference between an episode which happens to be set at Christmas and a Christmas special," argues Laurence Marks, of Marks and Gran, creators of Birds of a Feather.
"In 1990, our episode Falling In Love Again was set in Berlin, was 90 minutes long and broadcast on the 25th. That made it a Christmas special - even though the subject matter wasn't remotely Christmassy."
---
2) At Christmas, the episodes can be longer...
Most episodes of Father Ted, Porridge, Just Good Friends, Birds of a Feather, The Royle Family, The Office and Gavin and Stacey lasted half an hour - except the ones made for the seasonal schedule.
"A longer show gives you more time to tell a different story," reasons Dick Clement, who created three festive extended programmes (two of Porridge and Whatever Happened to the Likely Lads?), with Ian LaFrenais. "The budget may well be bigger too.
"When someone asks, 'Would you like to do a Christmas special?', our question is always, 'How long would you like the episode to be?' If it's the regular length, that's not special," argues Laurence Marks. "That makes a difference. It gives you a chance to see your favourite characters in a film."
---
3) ...but not too long
Graham Linehan, the co-creator of Father Ted with Arthur Mathews, agrees with the old adage about the soul of wit. "I'm a big fan of brevity. I check the running time of a movie these days before I go to see it. If a comedy's over two hours, forget about it."
Linehan has admitted to "ranting in the DVD commentary" about the 60-minute festive episode, although he's now reconciled to it. "We were unused to writing anything over half an hour.
It turned out to be two episodes bolted together. I see now that the quality of the individual jokes bound it together in a strange way I'm not sure I'd be able to do again."
---
4) Just like your own home, you expect to recognise the characters
Christmas is a time for family. It's therefore no surprise The Royle Family (a "great favourite" of Ronnie Corbett CBE), Gavin and Stacey and The Office have a recurring cast. "It's like having another couple of friends round for Christmas," says Clement.
It's why Jim Royle and Del Boy's Yuletide exploits are still fondly remembered, but Rowan Atkinson's Ebenezer Blackadder less so.
"Blackadder was a great show but there's a reason the special (1988's Blackadder's Christmas Carol) is not one of the more memorable episodes," suggests Marks. "Those characters were not as well-established."
---
5) Take characters out of their comfort zone
As its title suggests, David Renwick's festive special One Foot in the Algarve saw Victor Meldrew leave his sofa, Del Boy and Rodney went to Miami and Amsterdam for two Christmas episodes, and Norman Stanley Fletcher memorably tried to break out of prison in Porridge: No Way Out.
"I would imagine Miranda [the comedienne] will be finding a way to get Miranda [the character] out of the shop for her Christmas special," says Marks.
---
6) Guests stars tend to work only on sketch shows or Doctor Who
Marks says because Doctor Who exists in his own universe, Kylie or Nick Frost as Santa in the 2014 edition, can work. "Whatever Eric and Ernie or The Two Ronnies do, you believe. The minute an audience decides they don't believe in what a character does, you have real problems.
"The moment I see George Clooney step into Downton Abbey it ceases to be Downton Abbey. Unless he's playing an obviously different character, it's very hard to forget you're not seeing George Clooney. So it works only as a Text Santa sketch, not as an episode."
Cameos, such as Ballykissangel's Stephen Tomkinson and Dervla Kirwan in a dream sequence on the Christmas episode of Father Ted, have to fit into the feel of a show.
"Ballykissangel was the Other Big Priest Show, so it felt right to reference it," says Linehan, "and it made total sense that Ted would fantasise about Assumpta [Dervla Kirwan's character]."
Established sitcom characters have different rules. "It isn't ridiculous for David Bowie to appear in Extras because Andy Millman moved in a world of celebrities," Marks adds, "but if Bowie's tour bus arrived outside Sharon and Tracey's house in Chigwell, you'd think, 'What the hell..?'"
---
7) Include a major plot point to make the show extra-special
Dawn memorably kissed Tim at Wernham Hogg's office Christmas party. Denise went into labour in the 1999 Royle Family Christmas episode and possibly more important, Jim Royle received Sky TV from Santa the following year.
It was on a festive special, 1996's Time On Our Hands, that Del Boy and Rodney Trotter became millionaires. In 2001's seasonal episode, If They Could See Us Now, Del Boy tried to win back the money they'd lost on a quiz show. "The storyline of Porridge: No Way Out, where there was an attempted breakout, helped make it a real classic," says Marks.
---
8) Good writing is everything
"Whatever situation John [Sullivan] put Del Boy, Rodney and Grandad in," says Marks, "you always found it believable. He had created such a Dickensian tableau of characters that you could do pretty much anything with them, and you'd buy the story."
Corbett agrees: "With people like Barry Cryer, David Renwick [One Foot in the Grave as well as The Two Ronnies] and Ronnie [Barker] himself, we were blessed by very clever people writing at the top of their form. You can't beat lovely words."
---
9) Make it different from the other weeks
"The Likely Lads left off where they finished the week before," remembers LaFrenais. "The Christmas plot, as well as being longer at 45 minutes, enabled us to do a fresh story."
"There are certain rules you break," says Corbett, who made a celebrated Alice in a Winter Wonderland sketch with Barker. "There might be a bit more dressing up."
---
10) Bow out in style
The 1987 Two Ronnies Christmas special was their last proper show. Ricky Gervais and Stephen Merchant ended The Office and Episodes with end-of-year full-length programmes. Miranda Hart has announced plans to axe her sitcom with two festive episodes this year.
"I adore Miranda," says self-confessed fan and friend Corbett.
"She has established such a strong character like Lucille Ball and it's going to be very difficult to ditch that persona. I will be deeply sorry to see it go. Although she is such a funny person, she will have a job coming back to something as successful as that."