BBC submits Cliff Richard story for award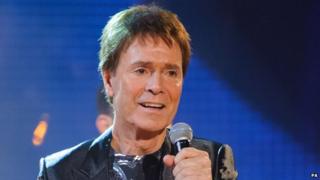 The BBC has submitted its controversial live coverage of a police raid on Sir Cliff Richard's Berkshire home for a major journalism award.
The reports have been entered for "scoop of the year" at the Royal Television Society Awards, despite the threat of legal action from the singer.
The BBC faced criticism after it emerged it had been tipped off by police, allowing it to film the raid.
No charges have been brought against Sir Cliff since the incident in August.
The search related to an alleged historical sex offence in Sheffield, which the pop star denies.
BBC cameras and a reporter were outside the gates to the singer's property in Sunningdale, Berkshire, when police officers arrived.
A helicopter was also used to film officers entering the property.
The star's lawyers said the live news coverage of the search "caused very serious harm" at a time when he had not been interviewed by the police, or arrested or charged.
Sir Cliff, 74, has said he will sue the BBC for breach of privacy if no charges arise from the allegations that led to the raid.
'Utterly inept'
The BBC received hundreds of complaints about its coverage.
South Yorkshire Police said a BBC reporter, Dan Johnson, had threatened to break the story prematurely unless he got inside access to the raid, which the BBC has contested.
The BBC said it would have not have prematurely run a story if the force had told the corporation such coverage would have jeopardised the police investigation.
The House of Commons Home Affairs Select Committee said police should have refused to co-operate with the BBC and should have told the corporation that premature coverage could have damaged the investigation.
The committee's report into the matter called South Yorkshire Police "utterly inept" and largely absolved the BBC of criticism, saying it was "well within its rights" to run the story.
Committee chairman Keith Vaz said Sir Cliff had "suffered enormous, irreparable damage to his reputation" as a result and was "owed an apology".