Ken Morley sorry for Celebrity Big Brother remarks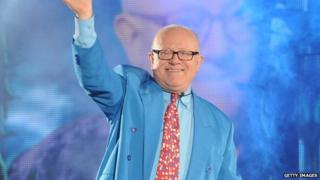 Former Coronation Street star Ken Morley has apologised "unreservedly" after being accused of racism on Celebrity Big Brother.
The actor was thrown off the show for using "unacceptable language" including repeated use of the word "negro".
Speaking on ITV's Loose Women, the 71-year-old, who played Reg Holdsworth on the soap, said he had used "an outdated expression", but denied he was racist.
"I apologise unreservedly to everybody who watched that programme," he said.
"I apologise if I disappointed you by saying what I said.
"It was banter in an odd situation, but I understand entirely I've upset a lot of people from everywhere in the world... I am not a racist. Never have been."
Morley used the term in a conversation with singer and fellow contestant Alexander O'Neal and later in an anecdote about former boxer Frank Bruno.
More than 250 people have complained to media regulator Ofcom about the former soap star, who also angered viewers with his comments about his female housemates.
On Monday, a Channel 5 spokesman said: "Ken Morley has been removed from the Celebrity Big Brother house for using unacceptable and offensive language following his formal warning."
Morley was the second contestant to be ejected by producers.
Former Baywatch actor Jeremy Jackson was kicked off the show on Sunday, after former page three girl Chloe Goodman claimed he had drunkenly tried to look at her breasts by opening her dressing gown while the pair were alone in the toilet.
Jackson was later given a police caution for common assault.
The actor claimed the incident arose because he was interested in bikini design.
'Large mistake'
He told ITV's This Morning: "My intentions were based on a relationship that Chloe and I had built regarding her swimming suits and how many of them she had, and how many times she had changed them on the show....
"I toured the world producing fashion shows, that included bikini lines, for five years... working with models, dressing models.
"Talking about fashion or fashion lines is something I do on a regular basis with many of my female friends."
This Morning host Phillip Schofield asked whether "you just go up to those models and have a look?"
Jackson replied: "I was drunk and with vomit on my face and I leaned to lift her robe to see here [touching his shoulder] to see the strap and [see] 'what bikini is this today?'... and she didn't have a bikini on.
"And that's when it turned into a naughty situation."
He added: "It was so slight but such a large mistake, and it's turned into... an incident."
Hertfordshire Police said: "A 34-year-old man voluntarily attended Hatfield police station on January 12 to assist police with their inquiries into an incident which is alleged to have taken place in the Big Brother House in Borehamwood in the early hours of Saturday January 10.
"The man has subsequently been issued with a police caution for common assault."