Making a spectacle of the Old Masters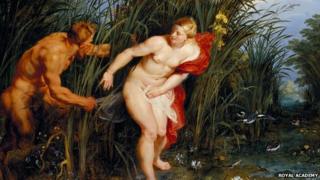 Velazquez, Rubens, Holbein, Leonardo, Titian, Turner, Rembrandt... the roll call of Old Master artworks taking a star turn in Frederick Wiseman's epic behind-the-scenes documentary at London's National Gallery is as dizzying as it is impressive.
"Old Masters are at our heart," asserts Jill Preston, the National Gallery's former head of communications at the start of the film. Its mission, she says, is to make the gallery's Old Masters more central to modern cultural life.
The real challenge, it becomes clear in Wiseman's film, is how exactly?
The surge in popularity of modern and contemporary art has seen record numbers of visitors flocking to see works in museums and galleries across the UK.
A massive 562,662 people headed to Tate Modern's Henri Matisse: The Cut-Outs from April to September 2014, making it the most popular show in Tate's history, ahead of previous blockbuster hits by the likes of Turner, Warhol and Hirst.
Charles Saumarez Smith is the secretary and chief executive of the Royal Academy of Arts in London.
He was previously director of the National Portrait Gallery, overseeing exhibitions by contemporary photographers, including Annie Leibovitz and Mario Testino. From 2002 to 2007 he was director of the National Gallery.
"There's been a real cultural shift in Britain since the post-war period when people were generally hostile to contemporary art," he says.
"With the success of Tate Modern and Saatchi, it's certainly getting easier to attract audiences to exhibitions of contemporary art.
"It used to be the case that the Impressionists got the biggest visitor numbers, but the David Hockney exhibition at the Royal Academy proved the interest was there."
David Hockney RA: A Bigger Picture remains the UK's most visited show, attracting 600,989 people in the opening months of 2012.
Statistically, visitor numbers to art galleries are up across the board since the mid-1990s.
Numbers were boosted by the policy of free entry to permanent collections at national museums, introduced by the Labour government to broaden the demographic of museum visitors in 2001.
National museums are still able to charge for entry to temporary exhibitions, though the £18 adult ticket price for Tate Modern's show did not deter record numbers of visitors from queuing for the privilege.
Another reason for the rise in visitor numbers can be linked to the increasing popularity of "immersive" or "experiential" artworks.
From the mesmerising glow of Olafur Eliasson's giant sun housed in Tate Modern's Turbine Hall in 2003 and 2004, to last year's balloon-filled exhibition space courtesy of Martin Creed's What's the Point of It? retrospective at the Hayward Gallery, gallery-goers can experience, enjoy and interact with these types of artworks without needing to know anything about art or its history.
For some critics these are less artworks, more marketable experiences - essentially gimmicks to draw in the crowds, a triumph of spectacle over art.
So where does that leave the Old Masters? It's a far more difficult task making the experience of looking at a Vermeer or an Italian Renaissance altar piece immersive, but the guides, or docents, who appear in Wiseman's documentary certainly do an exceptional job of bringing the old masters to life.
One group of visitors is told how the gold-painted figures on an altar piece would have shimmered in the flickering candlelight of a medieval church to appear almost as if they were moving.
Later a docent delivers a gripping account of the Old Testament narrative behind Rubens' epic painting of Samson and Delilah captured in a post-coital embrace - a tale of desire, espionage and betrayal played out on canvas, not film.
Betsy Wieseman is an expert in 17th Century Dutch and Flemish art who appears in the film and curated the current Rembrandt exhibition at the National Gallery.
While very little has changed in terms of how artworks are presented within the gallery space, Wieseman believes that traditional institutions are currently at a crossroads in terms of how they present Old Master works of art and make them relevant to contemporary audiences.
"A lot of energy is being put into supporting programmes of events to coincide with exhibitions, as well as high-quality audio guides and promotion via interactive social media campaigns," she says.
"The way you make Old Master paintings relevant is to find a good hook in terms of explaining the social and historical context, which is fascinating when told in the right way."
Betsy Wieseman and Charles Saumarez Smith both agree that it's the quality of artworks that ultimately draws in the crowds.
The Royal Academy's current survey of works by 16th Century Italian portraitist Giovanni Battista Moroni has been an unexpected hit of 2014, despite relatively few people being familiar with his work.
"Galleries are under pressure to put on blockbuster exhibitions by big-name artists in order to generate revenue," Saumarez Smith says.
"But those exhibitions fund the riskier shows by lesser-known artists. Likewise, institutions recognise the popularity of contemporary art and use it as way to entice visitors in to see Old Master works by way of crossover."
The success of exhibitions of late works by JMW Turner at Tate Britain and Rembrandt: The Late Works at the National Gallery this past year shows that the Old Masters can still hold their own against the younger competition.
"When we were planning the Rembrandt exhibition, the market researchers told us that people aren't interested in seeing brown and grey paintings by a dead white man. But that hasn't proven to be the case," says Betsy Wieseman.
"There's always the temptation from the marketing team to sensationalise exhibitions in order to attract visitors, but there's no reason to dumb down - that just turns people off. People aren't stupid, they do get it."
National Gallery is currently on release in selected cities.