David Walliams led children's UK book sales in 2014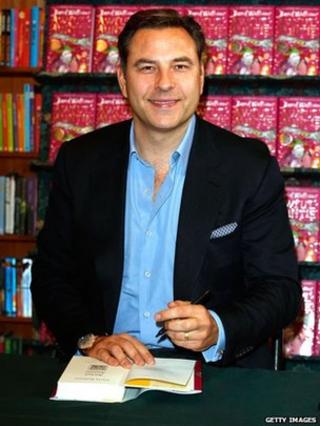 Comedian David Walliams made more than £7m from sales of his children's books in 2014, making him the UK's best-selling children's author.
His latest book Awful Auntie, which sold more than 500,000 copies, was the biggest children's title last year.
The Britain's Got Talent judge had four books in last year's list of the top 50 bestsellers.
The children's market hit an all-time high in 2014, beating adult fiction for the first time since records began.
According to new figures published in The Bookseller, sales of children's titles increased by 10% in the last year.
The success of Walliams's books, which also include Gangsta Granny, Ratburger and Billionaire Boy, was buoyed by TV adaptations of his stories.
The Boy in the Dress, which starred Jennifer Saunders, Meera Syal and Walliams himself, was screened on the BBC over Christmas.
Lynda Bellingham's autobiography, There's Something I've Been Dying To Tell You, was another of the year's biggest hits.
Published days before she died of cancer in October, it became the second biggest hardback non-fiction title of 2014, behind the Guinness Book of Records.
Teen romance The Fault in Our Stars, written by John Green, was the best-selling book of the year, shifting more than 870,000 copies.
Gillian Flynn's thriller Gone Girl, which was turned into a film last year starring Ben Affleck and Rosamund Pike, was still in the top five bestsellers of 2014 after topping the charts the previous year.