Hepworth photos revealed in exhibit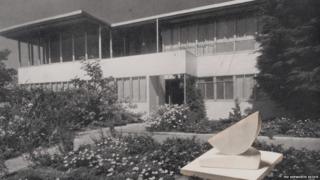 A new exhibition celebrating the work of acclaimed sculptor Dame Barbara Hepworth will feature a series of photographs rediscovered in her archive.
Their inclusion will highlight how important photography was to the late artist.
Personal albums and photo collages put together by Dame Barbara will form part of the exhibition at Tate Britain.
Barbara Hepworth: Sculpture for a Modern World opens on 24 June.
Dame Barbara was born and grew up in Wakefield, West Yorkshire. She went to the Leeds School of Art with fellow sculptor Henry Moore. The pair, who remained lifelong friends, were pioneers of abstract sculpture in the UK.
The artist became known for her pierced shapes, and her most famous works include Single Form, which is in the United Nations Plaza in New York, and Winged Figure, on the side of the John Lewis department store in London.
She was made a Dame in 1965 and died in a fire at her studio in St Ives 10 years later at the age of 72.
The Tate show will mark the first major exhibition of the artist in London since the 1960s.
There is a dedicated museum in St Ives, run by Tate, as well the Hepworth Wakefield gallery which houses a permanent collection of her work alongside other contemporary artists.