Richard Blackwood lands role in EastEnders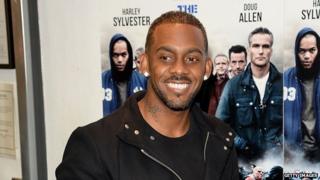 Actor, stand-up and former pop star Richard Blackwood has landed a role in EastEnders - making his debut during the soap's live anniversary episode.
Blackwood - who once had an eponymous comedy show - will play a villain.
EastEnders marks its 30th anniversary in February with a 30-minute live show, which will wrap up the cliffhanger "who killed Lucy Beale?" storyline.
Blackwood said he had grown up with EastEnders "so to film on Albert Square is something I'll never get used to".
"To know my first ever scene will be a live one hopefully means the team believe in me and I won't let them down," he added.
Blackwood had his own comedy show, The Richard Blackwood Show, on Channel 4 between 1999 and 2001, around the same time as he launched his music career.
Among his hit singles were Mama Who Da Man and 1,2,3,4 Get With the Wicked.
He later turned to the stage, with roles in Cat on a Hot Tin Roof and Shrek the Musical in the West End.
"Richard Blackwood has always been on our EastEnders wish list - and now the perfect part has come along," executive producer Dominic Treadwell-Collins said.
"Richard's an authentic Londoner and a terrific actor, bringing with him warmth, humour and energy which will add so many layers to this 21st Century EastEnders villain. The status quo in the Square is about to be well and truly shaken."