Houston family slams Whitney biopic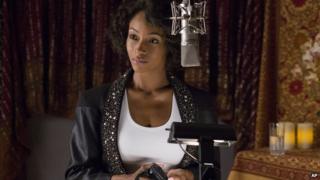 Whitney Houston's family has heavily criticised a biopic of the star, directed by actress Angela Bassett.
Sister-in-law Pat Houston wrote on the late singer's website that fans who plan to watch the made-for-TV movie should "brace for the worst".
She said the film, which premiered on Lifetime on Saturday in the US, was made without the family's blessing.
She also accused Bassett, who starred alongside Houston in Waiting to Exhale, of "misrepresenting" their friendship.
"If you watch this movie, watch it knowing that Lifetime is notorious for making bad biopics of deceased celebrities and brace yourself for the worst," wrote Houston.
She added fans should not be surprised about the film - titled Whitney - happening "without the family's blessing and despite her mother's request to not do this movie".
Referring to the channel's recent controversial films about singer Aaliyah, actress Brittany Murphy and the stars of Saved by the Bell, she added: "It happens every day."
'Disrespectful'
Houston's statement was also highly critical of Bassett's involvement in the film, which focuses on a few years at the height of the singer's career and marks the actress's directorial debut.
"Misrepresenting the term friendship to advance an agenda is not only disrespectful and dishonest but a slap in the face to her true and loyal friends," wrote Houston.
"You should expect people will always rise to the occasion for prominence and profit - not love, respect or honour."
Lifetime, whose film is told from the perspective of the singer's ex-husband Bobby Brown, has so far made no comment on the statement.
A review from The Hollywood Reporter's Allison Keene praised Yaya DeCosta's portrayal of Houston, but said "a more accurate title for the film would be Whitney and Bobby," as the pair share equal screen time.
Keene said the film did not "shy away" from the couple's drug abuse.
However she added: "The decision to focus just on Houston's most meteorically successful years - where, for a little while, she probably was happy - makes Whitney a fairly flattering portrait that is only lightly a cautionary tale.
"The signs are there, but they are left to viewers to interpret."
Writing for the Los Angeles Times, critic Robert Lloyd called it "a better-than-average Lifetime film" but said it "falls flat".
He continued: "Though it works in parts and pieces - were you to be shown any random scene out of context, you might imagine a better picture - it doesn't add up to much."
Houston died in February 2012, aged 48, after accidentally drowning in a hotel bathtub in Los Angeles.
Whitney will be broadcast in the UK on Lifetime on Thursday 12 February at 21:00 GMT.