James Patterson writes self-destruct novel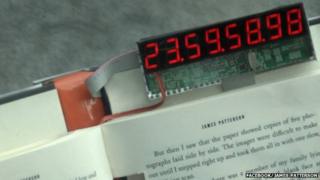 Author James Patterson has written the world's first self-destructing novel.
For £194,000 ($294,038), one fan will get a meal with the best-selling writer and 24 hours to read his new book Private Vegas before it explodes.
Patterson said he hoped the publicity stunt would inspire the book industry to become more inventive when it comes to promoting new releases.
"The publishing business needs to compete," he said. "It needs to compete with movies and the internet."
Although the details of the destruction are unclear, a Swat team will be on hand to deal with any issues.
Meanwhile, a further 1,000 fans will be able to download free copies of the book.
Attention seeking
Each book will have a 24-hour digital timer that cannot be paused or cancelled.
"Twenty four hours after you start it, the book will no longer be there," said Patterson, "I hope this spurs more ways to get attention."
He added: "This seemed like a terrific way to draw attention to a book in a way that has never been done before.
"In the history of publishing there hasn't been anything like this."
Private Vegas is the latest in Patterson's Private series. It featuring private investigator Jack Morgan, who discovers a murder ring in Las Vegas.
Patterson has published more than 100 novels and sold more than 300 million books worldwide. His best-known characters include fictional psychologist Alex Cross.
In December last year, he donated $473,000 (£312,000) to 81 independent sellers around the US as part of a campaign to keep local bookstores in business.
Last year, he also gave £250,000 to independent bookshops in the UK and Ireland to help boost literacy for young readers.
"Far too many children are in danger of living their lives without books," he said.