Ray Mears dropped from caravan show after TV show jibes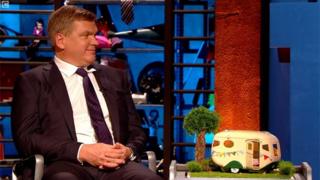 Survival expert Ray Mears has been axed as a speaker at a caravan show, after calling motorhomes "hideous" and "ghastly" on television.
The star was due to make at least £10,000 as a speaker at the Caravan, Camping and Motorhome Show next month.
But he angered organisers by choosing caravans as one of his pet hates on TV show Room 101.
They sacked him, calling the comments "elitist" and "insulting". He has "lost a five figure sum," they added.
Mears recorded his appearance on Room 101 last year, but the show was only broadcast on BBC One on 17 January.
Inspired by George Orwell's 1984, the show asks guests to discuss the things that drive them mad - with the most despicable examples consigned to Room 101 forever.
Mears chose caravans in the show's wildcard round, describing them as "mobile breadbins".
"I get stuck behind them, and I think they're hideous," he complained.
"Swathes of our coastline are just covered in these things. I wouldn't mind so much if they could be painted green, but they have to be painted white. Gleaming white.
"You go down to Devon and all you can see are cities of these displaced urban people in their ghastly white caravans."
Emma Entwistle of Pelican Communications, which is promoting the Caravan, Camping and Motorhome Show at Birmingham's NEC, confirmed he had been dropped from the line-up.
"There was no way we can now have him come along to speak at our event," she said. "He has slagged off the community we are in charge of promoting and protecting. He has insulted the people who come to the show.
"He shouldn't have taken the job if he has fundamental issues with caravans."
A statement from Pelican Communications added Mears had recorded Room 101 before entering negotiations to appear at the caravan show.
"We feel his agent should have made us aware of this pre-recording the moment we began communicating," it continued.
The BBC has contacted Mears' agent for a comment, but is yet to hear back.
More than 80,000 people attended last year's show Caravan, Camping and Motorhome Show.
This year's event is set to feature Olympic gold medallist Sally Gunnell and TV presenter Matt Baker, amongst others.
Despite their anger, organisers said they were keen for Mears to see the show.
"We're sure that if Ray spent a weekend away in a caravan or motorhome, he would very much enjoy himself.
"We have extended an invitation to him to attend the show in a personal capacity to meet, and speak to, visitors about the benefits of this... much-loved leisure option."