Family of comedian killed in Tracy Morgan crash wins settlement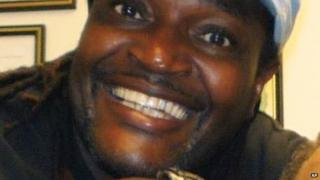 The family of a comedian killed in the crash that also left comedy star Tracy Morgan with a brain injury has reached a financial settlement with Wal-Mart.
James McNair was one of several mini-van passengers travelling home from a comedy gig last June when a Wal-Mart lorry hit them.
The 62-year-old, who performed under the name Jimmy Mack, died at the scene.
A lawyer for his family said the terms of the settlement were confidential and that Wal-Mart did not admit liability.
Daryl Zaslow added that McNair's family had been prepared to file a wrongful death case against the retailer if they were unable to reach a settlement.
Speaking to the Associated Press news agency, Zaslow said Wal-Mart "more than stepped up to the plate and took care of this family.
"Ultimately it did the right thing,'' he added.
Former Saturday Night Live and 30 Rock star, Tracy Morgan, 46, has also sued Wal-Mart after the crash, which left him with a brain injury and several broken bones.
His career has been put on hold while recovers, with US cable network FX pressing pause on a planned comedy series with the comedian.
Criminal charges against truck driver Kevin Roper are still pending in New Jersey but he has pleaded not guilty to charges of death and assault by driving.
Investigators have said Roper was driving some 20 miles per hour (32 km/h) more than the speed limit before the crash and was operating the truck without having slept for more than 24 hours.
Three other people travelling with McNair and Morgan have also sued the company.
Wal-Mart spokeswoman Brooke Buchanan said the retail giant was working towards a settlement with each of the passengers.
"We know there is nothing we can do to change what happened to Mr McNair,'' she said. "We're committed to doing what's right.''
However, Wal-Mart has said in a court filing that Morgan and his fellow-passengers were not wearing seatbelts at the time of the crash.
'Huge difference'
James McNair grew up with Tracy Morgan in Brooklyn and was a friend and mentor to him over the years.
McNair's children Denita, 19, and Jamel, 26 described their father as a humble, grounded man who cared for needy families in his hometown by giving out free Thanksgiving turkeys.
"You don't have to be a celebrity to make a difference in a lot of people's lives,'' Jamel McNair said.
"My dad made a huge difference in a lot of people's lives."