Martin Scorsese Bill Clinton documentary 'shelved'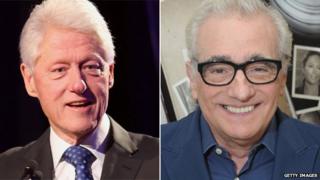 Martin Scorsese's planned HBO TV documentary film on former US President Bill Clinton has been shelved indefinitely, according to reports.
The New York Times said the project - which was announced in December 2012 - had stalled over disagreements on control of the film.
The newspaper said Mr Clinton had wanted more say over the interview questions and the final cut.
A spokesman for the politician said the claim was "inaccurate".
The film was partly shot over the past two years, and was to feature the former president making a philanthropic visit to South Africa.
According to unnamed sources working on the project, Mr Clinton's aides had wanted to approve the questions he would be asked and the film's final edit.
Scorsese's spokesman declined to comment on the dispute, but HBO said: "[The film's] not happening soon but that doesn't mean it's not going to happen."
When the documentary was first announced, the Oscar-winning director described Mr Clinton as "a towering figure who remains a major voice in world issues".
He added: "Through intimate conversations, I hope to provide greater insight into this transcendent figure."
At the time, Mr Clinton also said he was pleased to become the subject of a "legendary director".
Scorsese is currently preparing for his next film, Silence, in Taiwan.
A period piece about Jesuit priests, it stars Liam Neeson and Andrew Garfield and is set for release later this year.