Tate reveals BP sponsorship figures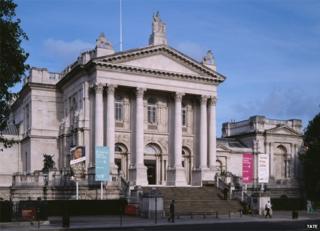 Tate has revealed oil giant BP donated £3.8m to its galleries as part of its sponsorship deal over a 17-year period.
The figures have been released after Tate lost a three-year Freedom of Information battle, brought by environmental campaigners.
Activist group Platform said Tate should cut its ties with the oil industry for ethical reasons, as the money was "easily replaceable" .
Tate said BP's sponsorship "fits in" with its "ethical policy".
BP's sponsorship of Tate and other cultural institutions, including the British Museum and Royal Opera House, has prompted protests from campaigners.
In 2012, the oil giant announced it would donate £10m over five years to four cultural institutions.
Platform claims BP is using its donations to buy "cultural power", in an effort to improve its corporate image which, the campaigners say, was damaged by its environmental record, including the 2010 Gulf oil spill.
"It's really urgent for the world to get off fossil fuels and to stop extracting oil - so it's important for institutions to cut their ties with the oil industry," Platform's Anna Galkina told BBC Radio 4's Front Row.
"BP have had their logo plastered all over Tate for 26 years now and some people might assume because it's such a prominent sponsorship it's worth millions. The new information shows it's not that much money, so it should be easily replaceable."
Platform said BP's donation averaged £224,000 a year, accounting for 0.5% of Tate's budget.
Along with the figures, Tate also released minutes from its ethics committee, which debated in 2010 whether it should continue with BP's sponsorship.
It was decided "taking a moral stance on the ethics of the oil and gas industry remains outside of Tate's charitable objectives".
The committee concluded "the benefits of BP's support for Tate far outweigh any quantifiable risk to our reputation".
Following the release of the information, Tate said it "has an ethical policy and the BP sponsorship fits in with that support".
"[BP's] support has been instrumental in helping Tate develop access to the Tate collection and to present changing displays of work by a wide range of artists in the national collection of British art."
However, it added, the majority of its funding came from private sources.
---
Analysis
Will Gompertz, BBC arts editor
BP's donation is quite a lot of money for any arts institution - getting that sort of money from a sponsor is deemed to be good trading.
It's expensive taking pictures on and off walls; taking them out of storage; preparing them for public display; putting them on public display - it all costs money.
There's curatorial money as well as physical transportation costs, which means displays remain quite fresh.
Everybody who involves themselves in the arts, whether it's an individual philanthropist or a corporate body, tends to want to do so because they want the association. The idea of looking intelligent and sophisticated is quite appealing.
What BP want from it, in from my experience, is exclusive rights to private entertainment. A lot of sponsors I worked with when I was at Tate wanted to get their brand out there, but BP wanted the chance to entertain privately.
Will Gompertz was previously director of Tate Media.
---