Man killed on Scorsese film set of Silence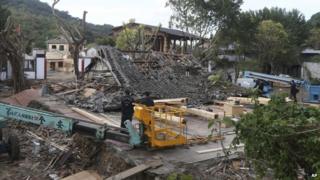 One person was killed and two others were injured in Taiwan on the set of Hollywood director Martin Scorsese's latest movie, Silence.
A ceiling collapsed onto three Taiwanese construction workers at the Chinese Culture and Movie Center during pre-production on the film.
A man identified as Chen Yu-lung was pronounced dead at hospital.
Scorsese was said to be "shocked and saddened" by the news.
A spokesperson for the film said the incident occurred after a building on the CMPC Studios backlot was deemed unstable and an independent contractor was hired to "reinforce and make it safe".
"The director is shocked and saddened that one worker was fatally wounded, he regrets that this incident happened," a Taiwanese spokesman for the film, Dave Lee said.
Officials said the two injured men suffered leg and head injuries.
Mr Lee told reporters that the accident was not expected to affect the filming schedule, which is set to begin shooting on Friday.
Silence, due to be released in 2016, will star Liam Neeson, Andrew Garfield and Adam Driver.
The storyline is based on a novel by Shusaku Endo and portrays Portuguese Jesuits in the 17th Century suffering persecution as they work in isolated areas of Japan.