Sir Cliff Richard raid on television award shortlist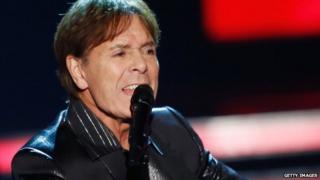 The coverage of a controversial police raid on the home of Sir Cliff Richard has been nominated for a Royal Television Society award.
BBC News' coverage of last year's raid is one of three events shortlisted for scoop of the year. The footage prompted hundreds of viewers' complaints.
The corporation faced criticism after it emerged it had been tipped off by police, allowing it to film the raid.
No charges have been brought against Sir Cliff since the incident in August.
BBC cameras and a reporter were outside the gates to the singer's property in Sunningdale, Berkshire, when police officers arrived, while a helicopter was deployed to film officers entering the property.
The search related to an alleged historical sex offence in Sheffield, which the pop star denies.
Broadcasters' tally
Other contenders for the scoop of the year award include Panorama's The Fake Sheikh Exposed - the subject of an attempted injunction by journalist Mazher Mahmood - and BBC Northern Ireland's A Woman Alone with the IRA.
ITV News at Ten presenter Mark Austin vies with co-presenter Julie Etchingham and BBC Newsnight's Emily Maitlis for the title of network presenter of the year.
The BBC's Lyse Doucet, Channel 4's Matt Frei and ITV News correspondent James Mates, meanwhile, are in the running for television journalist of the year.
Mates has a second nomination for specialist journalist of the year, alongside BBC News journalists Alison Holt and Fergus Walsh.
The BBC takes the lions' share of the nominations with 19 citations. ITV has 11 nominations while Channel 4 has nine.
Yet the BBC failed to receive a nomination into two major categories - daily news programme of the year and the award for home (domestic) news coverage.
Sky has three nominations in all, including one for news channel of the year, while Channel 5 has just one nomination for daily news programme of the year.
The awards will be handed out at a ceremony in London on 18 February.