How Chitty Chitty Bang Bang took off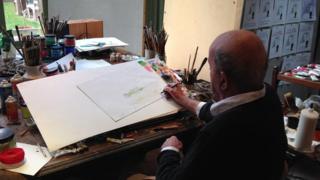 He was best known for his super spies and villains. But 50 years ago, James Bond creator Ian Fleming wrote a bedtime story for his young son, Caspar, about a magical flying car and created one of the best-loved stories in children's fiction.
Chitty Chitty Bang Bang's adventures have delighted generations of families since Fleming wrote the books, in three volumes, in the early 1960s.
The author was at the height of his fame after the success of the first Bond film, Dr No, in 1962. But Fleming was also suffering from ill health following a heart attack, and struggled to find an illustrator for the books who could bring his fantastical creation to life.
After more than two years, Fleming's publishers sent him a drawing by the young illustrator, John Burningham. The writer was instantly enthusiastic.
Burningham, now 78, set about creating a toy model of the car to help with his drawings. "I was still in the early stages of my career as an illustrator when I was asked to work on the project," he explains.
"Fleming had certainly reached fame with the Bond novels by then. It was slightly daunting to work with someone who clearly had a good idea how he wanted the illustrations to look."
"He gave me a picture of a side elevation of a car, it was British racing green. You have a car that flies. How the hell am I going to draw that? It's a hell of a problem.
"If you look at the text in the book, the wings come out at the front, so you think, well, that must be the mud guards that open up some way or another."
Burningham, now an award-winning illustrator and children's author in his own right, was working with publisher Jonathan Cape at the time.
"Sadly, due to his ill health, we only met once when I showed him my drawings. He [Fleming] was happy with my work, although he asked me to change the logo on a petrol pump."
Fleming's notes read: 'SHELL on petrol pump instead of ESSO' and 'Exhaust fumes (powerful) to come from exhaust pipes wherever possible'.
Fleming never saw the finished books. He died on 12 August, 1964 - his son Caspar's 12th birthday - just as the first advance copies of Chitty Chitty Bang Bang, the Magical Car, Adventure no 1, left the printers.
The books were a global hit. Four years later, Albert 'Cubby' Broccoli, the man behind the Bond film franchise, adapted Chitty Chitty Bang Bang for the big screen.
The film starred a memorable Dick van Dyke and Sally Anne Howes and was a box office success.
The Chitty Chitty Bang Bang car in the Hollywood classic took inspiration from Fleming's timeless tale and Burningham's original, witty illustrations. She now lives in the National Motor Museum at Beaulieu, Hampshire.
Now, to mark the 50th anniversary of the publication of the third volume of the Chitty Chitty Bang Bang tale, Queen Anne Press have created a special edition facsimile of the original volumes.
Kate Grimond, Fleming's niece, says the author could not have imagined Chitty's enduring success. "He would have been amazed that it's lasted for 50 years," she marvels.
"Just the basic concept of a car which can fly and take children on adventures is an irresistible one."