Bobbi Kristina Brown: Whitney Houston daughter's condition unknown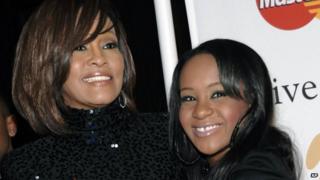 Bobbi Kristina Brown, daughter of late US singer Whitney Houston, is in hospital in an unknown condition after being found unresponsive in a bathtub.
Medical privacy laws mean information is restricted, but unconfirmed reports said she was in a medically induced coma to reduce swelling on the brain.
Ms Brown, 21, was found on Saturday by her husband and a friend.
Her father, singer Bobby Brown, asked for privacy, saying: "Please allow for my family to deal with this matter.
"Give my daughter the love and support she needs at this time."
The incident happened less than two weeks before the third anniversary of Whitney Houston's death.
The singer was found dead in February 2012, aged 48, in a bath in a hotel in Los Angeles.
A post-mortem examination later concluded she died of accidental drowning due to the effects of cocaine use and heart disease.
'Praying for recovery'
Ms Brown was found in the bathtub on Saturday morning, Roswell police spokeswoman Lisa Holland said later in the day.
She said that Ms Brown was now at North Fulton Hospital in Roswell, Georgia, and that she was "still alive and breathing".
At a later news conference, Ms Holland said she could not comment on Ms Brown's condition because of medical privacy laws.
The police spokeswoman also noted the incident's similarity with the circumstances of Ms Brown's mother's death.
But the 21-year-old's cousin Jerod Brown told Sky News: "She's pretty good right now, she's around family.
"We're just praying for a speedy recovery, that's it... I'm pretty sure she'll be getting out of there very soon."
Mr Brown refused to comment on reports that his cousin was in a coma.
Whitney Houston was seen as the golden girl of the music industry in the 1980s and 90s, becoming one of the world's best-selling artists and the most successful soul singer of all time.
But the hits stopped in the mid-1990s after she began to abuse cocaine, marijuana and prescription drugs.
Bobbi Kristina was born after the singer's tumultuous 1992 marriage to hip-hop singer Bobby Brown.
The marriage became a public spectacle and ended in divorce in 2007.
"She encourages me and inspires me," Houston once said of her daughter. "When I look at her eyes and I see myself, I go: 'OK. I can do this. I can do this.'"