Anita Dobson lands Elizabeth I role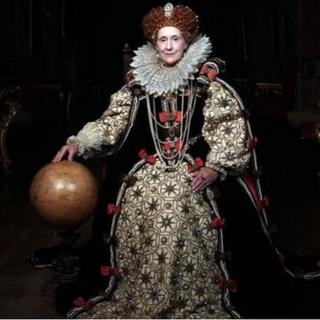 Former EastEnders actress Anita Dobson is to star in Armada, a BBC Two documentary series about Queen Elizabeth I to be broadcast this spring.
The series will use CGI and dramatic reconstruction to explore England's defeat of the Spanish Armada in 1588.
The 65-year-old described Elizabeth as "a gift of a role, and one I've always hoped I'd get the opportunity to play".
"Playing a queen was one of the most enjoyable times I've had," she added.
Dobson, who famously played Queen Vic landlady Angie Watts from 1985 to 1988, will be seen with a pockmarked face and rotten teeth as the "ageing and vulnerable" Elizabeth.
Historian Dan Snow will also appear in the three-part series, which pledges to "shed new light on... iconic events".
Dobson is married to Queen musician Brian May and had a guest role on Radio 4's The Archers last year.
Elizabeth will be seen again this spring in Bill, a comedy film from the Horrible Histories team in which Helen McCrory plays the British monarch.