Rihanna, Kanye West and Sam Smith set to play Grammys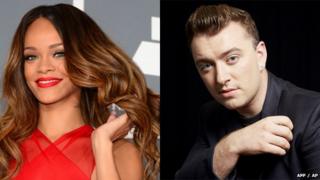 Pop's biggest stars are gearing up for the Grammy Awards later, with performances due from Pharrell Williams, Katy Perry and AC/DC.
Madonna will make her live return, playing music from her new album Rebel Heart; while Ed Sheeran will duet with Herbie Hancock and ELO's Jeff Lynne.
Rihanna, Kanye West and Paul McCartney will also give the first performance of their collaboration, FourFiveSeconds.
But Taylor Swift has excused herself from performing at the ceremony in LA.
The star, whose single Shake It Off is up for record of the year, says she is too "wrapped up and entangled" in planning her world tour to choreograph a Grammy performance.
"I'll be there having a dance party/rage fest in the audience," she added.
A guide to the performances
Paul McCartney, Rihanna and Kanye West have 46 Grammys between them (surprisingly, West has the most, with 21). They will perform their acoustic anthem FourFiveSeconds on the night, while West will also give a second, solo performance.
Katy Perry will follow up her spectacular Super Bowl half-time show with a low-key performance highlighting the victims of domestic abuse.
Ariana Grande rose to fame as Cat Valentine on the children's TV series Victorious - which led to a soundtrack album, Music From Victorious, in 2011. But her singing career really took off in 2014 with her second album, My Everything, which spawned four top 10 singles, including Problem and Break Free. Her set is likely to include elements of both of those.
John Legend (right) and Common will play Glory, from the movie Selma. The pair won a Golden Globe for the track last month. Beyonce is expected to join them on stage to sing the song, as well as Take My Hand Precious Lord.
In her fifth Grammy performance, Madonna will play music from her new album, Rebel Heart, for the first time. It is likely to include her new single, Living For Love, but the Queen of Pop is predictably unpredictable.
Australian singer Sia Furler has made a virtue of remaining semi-anonymous throughout the campaign for her album 1,000 Forms of Fear. She is expected to bring along 12-year-old dancer Maddie Ziegler (pictured lying down), who has appeared in her videos for Chandelier and Elastic Heart.
Lady Gaga and Tony Bennett will perform one of the jazz standards that featured on their US number one album, Cheek to Cheek.
Country star Miranda Lambert is up for four prizes, two of which recognise her album of duets with Carrie Underwood. Her song Automatic is also up for best country solo performance and best country song.
Pharrell Williams is all but guaranteed to play his global smash Happy at the ceremony. The song is nominated for best pop performance - but only as a live version, as the original came out too long ago to be eligible for the prize.
Sam Smith gets to perform twice - once as a solo artist and for a second time with Mary J Blige, with whom he collaborated on last year's London Sessions album.
Newcomer Brandy Clark, who is up for best new artist and best country album, will be joined onstage by country pioneer Dwight Yoakam.
Gwen Stefani and Adam Levine - both judges on The Voice US - are likely to perform the ballad My Heart Is Open, which appeared on Maroon 5's latest album.
Continuing The Voice theme, UK judges Tom Jones and Jessie J will perform what is being billed as a "Grammy moment".
Irish singer Hozier, whose single Take Me To Church was one of 2014's breakout hits, will duet with Annie Lennox, providing a Celtic interlude to the evening.
Rock group AC/DC will play without guitarist Malcolm Young, who departed last year after developing dementia. It is rumoured former drummer Chris Slade will also rejoin the band, as current sticksman Phil Rudd is awaiting trial for threatening to kill a business associate.
Country star Eric Church has four nominations, including best country solo performance and best country song for Give Me Back My Hometown.
Ed Sheeran - whose second album X was the UK's biggest-seller last year - is up for three awards, including the coveted album of the year prize. He'll perform a duet with Jeff Lynne and ELO before taking to the stage for a jam session with Herbie Hancock, John Mayer and Questlove later in the show.
R&B star Usher, whose song Good Kisser is up for best R&B performance, will play at both the Grammys and a special Grammy tribute to Stevie Wonder two days later.
Beck will duet with Coldplay's Chris Martin on one of the tracks from his award-nominated album Morning Phase.
Among the artists Swift will be dancing to are Ariana Grande, Usher and Sia, whose hit single Chandelier is up for three prizes, including song of the year and record of the year (the former recognises the songwriter and the latter goes to the performer - although, in this case, the two are the same).
Following her Super Bowl show last week, Katy Perry will perform with a survivor of domestic abuse during her segment.
The singer will perform her ballad By The Grace Of God with Brooke Axtelle, who will deliver a spoken-word piece.
"It's an honour to collaborate with Katy in this way," Axtell told People magazine. "It's going to bring a lot of encouragement and freedom to those who hear my story and know that they are not alone in this."
The night will also see a host of duets - including Hozier and Annie Lennox, Lady Gaga and Tony Bennett, Beck and Chris Martin; and Mary J Blige with Sam Smith.
Smith is also set to win several awards on the night, having tied with Beyonce and Pharrell to receive the most nominations for this year's ceremony.
The British singer is shortlisted in six categories, including best new artist.
His gospel-tinged single Stay With Me is also up for best pop performance and record of the year.
Smith is also one of three British artists in the running for best pop album - alongside Coldplay, Ed Sheeran, Miley Cyrus, Ariana Grande and Katy Perry.
Beyonce's six nominations means she has surpassed Dolly Parton's record as the most-nominated female artist in Grammy history.
Her tally is now 52 nominations and 17 wins, but she has a long way to go before she catches up with Alison Krauss, who has won more Grammys than any other woman, with 27 under her belt.
If, as expected, Beyonce wins album of the year for her self-titled fifth album she will tie with Aretha Franklin as the second most-garlanded woman in Grammy history.
There are a total of 83 categories at the ceremony. Other British nominees include Clean Bandit, whose hit single Rather Be is up for best dance single, and Alt-J, who are cited for best alternative album.
Pop singer Charli XCX also stands to win two prizes thanks to Fancy - her collaboration with Australian rapper Iggy Azalea - which topped the US charts for seven weeks last summer.
Azalea's nomination caused a minor storm in the US, where several hip-hop stars accused her of appropriating black culture - and being rewarded for it.
The 24-year-old has called the criticisms misogynistic, pointing out white male rappers like Eminem and Macklemore had not faced similar claims.
And she says the argument has not dimmed her hopes of winning on Sunday night.
"I don't [even] care if I get a Grammy for best album artwork. A Grammy is a Grammy," she said. "Nobody says, 'Uh, what's your Grammy for? ... No, this Grammy doesn't count.'
"Any Grammy is equally as good. I'll take any Grammy for anything. Any Grammy you've got, send them my way. I will not complain."
Hosted by LL Cool J, the ceremony will begin at 20:00 ET on Sunday (01:00 GMT on Monday in the UK).
The BBC News website will bring live text coverage of the ceremony, while highlights from the show will be broadcast on 4 Music at 21:00 GMT on Monday 9 February.
Selected Nominees
Album of the Year
Morning Phase - Beck
Beyonce - Beyonce
x - Ed Sheeran
In the Lonely Hour - Sam Smith
Girl - Pharrell Williams
Best new artist
Iggy Azalea
Bastille
Brandy Clark
Haim
Sam Smith
Best rock album
Ryan Adams - Ryan Adams
Morning Phase - Beck
Turn Blue - The Black Keys
Hypnotic Eye - Tom Petty & the Heartbreakers
Songs of Innocence - U2
Record of the year
Fancy - Iggy Azalea ft. Charli XCX (pictured)
Chandelier - Sia
Stay With Me - Sam Smith
Shake It Off - Taylor Swift
All About That Bass - Meghan Trainor
Song of the year
All About That Bass - Kevin Kadish and Meghan Trainor
Chandelier - Sia and Jesse Shatkin
Shake It Off - Max Martin, Shellback and Taylor Swift
Stay With Me - Jimmy Napes, William Phillips and Sam Smith
Take Me to Church - Hozier
Best pop vocal album
Ghost Stories - Coldplay
Bangerz - Miley Cyrus
My Everything - Ariana Grande
Prism - Katy Perry
x - Ed Sheeran
In the Lonely Hour - Sam Smith
Best pop solo performance
All of Me - John Legend
Chandelier - Sia
Stay With Me - Sam Smith
Shake It Off - Taylor Swift
Happy - Pharrell Williams