Kanye West says Grammys 'lack respect' after Beck win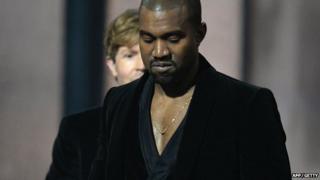 Kanye West has accused the Grammys of "disrespecting artistry" by handing Beck album of the year instead of Beyonce, after almost invading the stage during Beck's acceptance speech.
West had seemed about to repeat his infamous Taylor Swift moment, when he stormed the VMAs stage in 2009.
However in a rant on E! afterwards he said he decided to smile and sit down out of consideration for his daughter.
The rapper also said he thought Beck "should've given his award to Beyonce."
"I just know that the Grammys, if they want real artists to keep coming back, they need to stop playing with us. We ain't gonna play with them no more," he told E! After Party, as he was interviewed alongside wife Kim Kardashian.
"And Beck needs to respect artistry and he should've given his award to Beyonce."
---
Full Grammys coverage
West went on to say that he and other artists were "tired" of being disrespected by the Grammys.
"Because when you keep on diminishing art and not respecting the craft and smacking people in their face after they deliver monumental feats of music, you're disrespectful to inspiration.
"And we as musicians have to inspire people who go to work every day, and they listen to that Beyonce album and they feel like it takes them to another place."
West's stance echoed the 2009 VMAs, when he stormed on stage as Taylor Swift was accepting her award, to say he thought Beyonce should have won.
Beck took the stage invasion in his stride, beckoning West towards the microphone.
He later and later told Us Weekly: "I was just so excited he was coming up. He deserves to be on stage as much as anybody.
"How many great records has he put out in the last five years right?
"I still love him and think he's genius. I aspire to do what he does."
Many Grammys commentators initially thought West's brief appearance next to Beck had been a joke.
However, the rapper said it was out of consideration for his daughter, North and his wife that he had decided not to speak.
"I'm not going to do nothing to put my daughter at risk, but I am here to fight for creativity," he said.
"That's the reason why I didn't say anything tonight, but you all know what it meant when Ye [referring to himself] walked out on that stage!"
West had performed his track Only One during the ceremony, as well as appearing with Sir Paul McCartney and Rihanna for a performance of their collaboration FourFiveSeconds.
Beck won two Grammys including album of the year for Morning Phase, beating Ed Sheeran, Pharrell Williams and Sam Smith as well as Beyonce in that category.
Beck revealed to Billboard at Saturday night's pre-Grammys party that he was not expecting a trophy.
"It would be a surprise with this record, honestly. I've been in that category before, and it's usually something that's very definitive of the time."
Speaking after the show, he reiterated: "I thought she was going to win. Come on, she's Beyonce!"
In the final event, Beyonce won three awards, while Sam Smith was the evening's big winner with four. See our list of key winners and our full story for more.