SpongeBob knocks American Sniper off US box office spot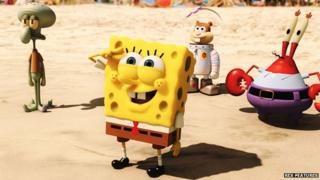 American Sniper has been knocked off the top of the US box office by SpongeBob SquarePants.
The second animated film to be based on the anarchic TV series, it took $56m (£37m) in its opening weekend.
Subtitled Sponge Out of Water, it follows the character as he leaves his home on the ocean floor and attempts to recover a stolen burger recipe,
Clint Eastwood's Navy Seal drama fell to second place after taking $24.2m (£16m) in its fourth week.
Since its release, American Sniper has raked in $282m (£185m). Based on the memoirs of US soldier Chris Kyle, it has received six Oscar nominations, including a best actor nod for Bradley Cooper in the title role.
Jupiter Ascending sold the third most tickets over the weekend, with estimated box office takings of $19m (£12m).
Starring Channing Tatum, Mila Kunis and Eddie Redmayne, the sci-fi blockbuster has received wildly disparate reviews.
The New York Post described it as "an instant candidate for the so-bad-it's-sort-of-great hall of fame", while the Chicago Sun Times called it "a $175 million intergalactic train wreck".
Total film, on the other hand, thought it was "a fun, inventive, visually stunning piece of space opera".
Seventh Son, a 3D fantasy-action film starring Jeff Bridges and Julianne Moore, took the fourth spot, earning $7.1m (£4.7m).
Paddington, the film adaptation of the family classic about a bear lost in the big city, came fifth, with $5.4m (£3.5m) in ticket sales.
North America box office top 10
1. The SpongeBob Movie: Sponge Out of Water - $56m (£37m)
2. American Sniper - $24.2m (£16m)
3. Jupiter Ascending - $19m (£12m)
4. Seventh Son - $7.1m (£4.7m)
5. Paddington - $5.4m (£4.7m)
6. Project Almanac - $5.3m (£3.4m)
7. The Imitation Game - $4.9 m (£3.2m)
8. Black or White - $4.52m (£2.98m)
9. The Wedding Ringer - $4.5m (£2.96m)
10. The Boy Next Door - $4.1m (£1.1m)