Bafta explains Bob Hoskins 'snub'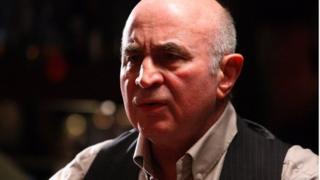 Bafta organisers have explained why there was no tribute to Bob Hoskins at last night's film awards.
Fellow actors Eddie Marsan and Paddy Considine were among those voicing displeasure after Hoskins was omitted from the In Memoriam video.
"Dear Bafta, leaving out Bob Hoskins was a glaring error, and a complete travesty," wrote Considine on Twitter.
Bafta told the BBC that Hoskins had already featured in an obituary sequence at last year's TV awards.
---
Full Baftas coverage
---
"Due to the timing of his death in April last year and the fact that his credits included television as well as film [he was Bafta-nominated for Pennies from Heaven in 1979], Bob Hoskins was included in the televised obituaries package at the British Academy Television Awards last year," the organisation added.
"Bafta features individuals in televised obituaries only once, sadly due to the number of people we'd like to recognise at any one time, and that means difficult decisions have to be made as to which ceremony they should be included in.
"As Bob died in April last year, just before the television awards, we felt it was right to remember his wonderful career then, rather than wait until last night's film awards.
"Bob's name was featured in the In Memoriam section of the souvenir brochures given to everyone on the nights of the Television and Film Awards and his career is recognised in our online obituaries."
However, Considine, who starred alongside Hoskins in A Room For Romeo Brass, appears to have felt this explanation was inadequate.
He re-tweeted a comment from one of his followers, which read: "Bob Hoskins should have been included in both ceremonies for his outstanding contribution to TV and film."
Earlier, Marsan had written: "Bafta didn't remember the great, kind and talented Bob Hoskins last night. But he'll always be inspirational to us."
David Baddiel also tweeted: "The omission of Bob Hoskins in the Bafta remembrance montage seems symbolic of the erasure in modern times of the working-class actor."
Fans also criticised Bafta for leaving Rik Mayall and Philip Seymour Hoffman out of the obituaries video - but, similarly, both stars had been honoured at previous ceremonies.