Shirley Manson calls Kanye West 'spoilt' for Grammys outburst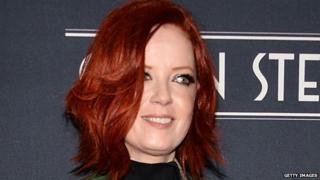 Garbage's lead singer Shirley Manson has accused Kanye West of being "small and petty and spoilt" after he criticised Beck for winning album of the year at the Grammys.
Kanye West said Beck's award win was "disrespectful to inspiration" and that Beyonce should have won.
Posting on Facebook, the Scottish singer addressed the rapper's outburst during Beck's Grammy acceptance speech.
"Grow up and stop throwing your toys around," she said.
"In attempting to reduce the importance of one great talent over another, you make a mockery of all musicians and music from every genre, including your own".
West felt Beyonce should have won the award for her self-titled album Beyonce.
He approached the podium as Beck accepted his award for Morning Phase, but turned around without making comment.
Speaking backstage later, West said: "Beck needs to respect artistry and he should've given his award to Beyonce.
"Because when you keep on diminishing art and not respecting the craft and smacking people in their face after they deliver monumental feats of music, you're disrespectful to inspiration."
The incident was similar to the MTV Video Awards in 2009 when West accosted Taylor Swift during her acceptance speech, although on that occasion he did choose to address the audience.
Swift's You Belong With Me beat Beyonce's Single Ladies, for female video of the year.
"Yo, Taylor, I'm really happy for you, I'ma let you finish," West said.
"But Beyonce had one of the best videos of all time! One of the best videos of all time!"