Bobbi Kristina Brown: Vigil held for Whitney's daughter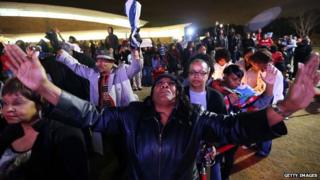 Hundreds of people have gathered with candles and torches to pray for Whitney Houston's daughter, who is fighting for her life in hospital.
The event, called Shining a Light for Healing for Bobbi Kristina Brown, was held at the Riverdale Town Centre amphitheatre in Georgia.
The 21-year-old remains in care after being found unconscious in the bath at her home.
She was the only offspring of singers Bobby Brown and Houston.
Her mother, whose hits included I Will Always Love You and How WIll I Know, died two years ago in Los Angeles. She was also found unresponsive in a bathtub, at the age of 48.
Privacy
Around 500 people gathered for the vigil on Monday evening, singing gospel songs and praying for Brown's recovery.
It is reported that at least three members of her family also attended.
Several speakers addressed the struggles and scrutiny Brown and her family had faced in recent years.
"They bleed and hurt like us," Riverdale mayor Wynn-Dixon said.
Police were called to Brown's home in suburban Atlanta on 31 January, in response to a "drowning".
A police official told a local broadcaster officials had not found any drugs or prescription medications in the home.
Following the incident, Brown's relatives said she was "fighting for her life" and "surrounded by immediate family".
"We are asking you to honour our request for privacy during this difficult time."