Detectives 'replace vampires' in children's shortlist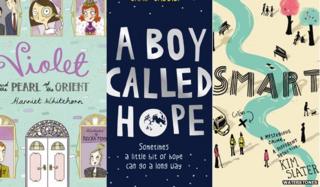 Young detectives have replaced vampires in young adult fiction according to the organisers of the Waterstones Children's Book Prize.
This year's shortlist features six titles where children are left to their own devices to solve mysteries.
The awards, now in its 11th year, has seen a "striking resurgence" of children's mystery books, Waterstones' Melissa Cox said.
The shortlist includes Erin Lange's Dead Ends and Smart by Kim Slater.
"By borrowing from the detective genre, many of our shortlisted authors have allowed their characters to deal with some very serious issues within a framework that also feels safe and familiar for young readers," added Cox, who is the book chain's head of buying for children's fiction.
Also shortlisted for 2015 is Murder Most Unladylike by Robin Stevens, which features a pair of boarding school girls investigating the violent murder of their teacher, while Smart by Slater follows a misfit teen investigating the death of a homeless man.
The list also includes Harriet Whitehorn's Violet and the Pearl of the Orient, Sarah Moore Fitzgerald's The Apple Tart of Hope and A Boy Called Hope, continuing the theme of crime-solving children.
The prize has three categories: picture books, fiction 5-12, and teen.
Each category winner will receive £2,000, with an overall winner chosen from the three winning an additional £3,000.
Fifteen of the 18 books up for the prize this year are by women, continuing the trend from 2014 which also saw an overwhelmingly female-dominated shortlist.
Last year, Katherine Rundell was crowned the overall winner for her children's novel, Rooftoppers.
---
The full list of shortlisted titles are:
Best Illustrated Book
The Queen's Hat by Steve Antony (Hodder / Hachette Children's)
The Dawn Chorus by Suzanne Barton (Bloomsbury)
Blown Away by Rob Biddulph (HarperCollins)
Where Bear? by Sophy Henn (Puffin)
Atlas of Adventures by Lucy Letherland, words by Rachel Williams (Wide Eyed Editions)
The Sea Tiger by Victoria Turnbull (Templar)
Best Fiction for 5-12s:
Girl with a White Dog by Anne Booth (Catnip)
Cowgirl by GR Gemin (Nosy Crow)
Boy in the Tower by Polly Ho-Yen (Random House Children's Publishers)
Murder Most Unladylike by Robin Stevens (Random House Children's Publishers)
Violet and the Pearl of the Orient by Harriet Whitehorn, illustrated by Becka Moor (Simon & Schuster)
A Boy Called Hope by Lara Williamson (Usborne Publishing)
Best Book for Teens:
The Apple Tart of Hope by Sarah Moore Fitzgerald (Orion Children's Books)
Half Bad by Sally Green (Penguin)
Dead Ends by Erin Lange (Faber & Faber)
Only Ever Yours by Louise O'Neill (Quercus)
Smart by Kim Slater (Macmillan Children's Books)
The Strange and Beautiful Sorrows of Ava Lavender by Leslye Walton (Walker Books)