'Poster boys for love in old age'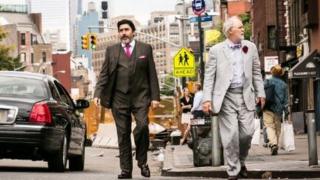 Critics have described them as having "absolutely delicious" chemistry and are calling them "the alternative to Fifty Shades of Grey". Yet the couple featured in Ira Sach's film Love is Strange is played by John Lithgow and Alfred Molina, as elderly lovers who can finally get married after 40 years together.
"Old age is never sexy, particularly on film, and Fred and I have a combined age of around 130 years," says Lithgow. "But something between us in this film works. Perhaps it's because we have been friends for more than 30 years as well, maybe that devotion to each other comes across on screen."
Love is Strange, according to Molina, the star of Spider-Man 2 and Raiders of the Lost Ark, "is about the little things in life. Ben and George are a pair of New Yorkers who can finally get legally married after a lifetime spent together. Then prejudice by George's Catholic employers means he loses his job, and their apartment - meaning this devoted couple has to live apart for the first time."
Lithgow, who won both an Emmy and a Golden Globe for his part in TV series Dexter, describes this "as possibly my favourite ever role.
"It's a love story we don't see that often. In fact, I don't think it could have been made even five or 10 years ago. I think there is considerably less homophobia in Hollywood than there was when say, Brokeback Mountain was filmed a decade ago. God willing, in a few more years there won't even be an issue over whether they are gay or not.
"But homophobia still exists, of course, just like racism still does, and perhaps that has something to do with why the director, Ira Sachs, who is openly gay himself, took some time to raise the funding for the film. However, I do think that it's a step forward that this is in no way an 'issue' movie.
"It used to be that films like Milk, or Brokeback Mountain, or even Philadelphia, which is now 20 years old, had to be about Aids, or the struggle for gay rights. It's just great that Love is Strange is not about torturous love in any way. There's no trauma over their sexuality. They face some prejudice, but their love is about the mundane and the ordinary. It's pleasurable."
"If anything, it's old age that's more of the issue in this film," says Molina. "When do you ever see films about a relationship that's decades old? I can only think of the Michael Haneke film Amour. If movies are made about love, they have to be young, and sexy, and it's how they get together, it's always the start of the relationship, and they must be under 40. We are definitely not a fashionable film."
Both Molina and Lithgow have been married - to women - for more than 30 years, and Lithgow deplores "not seeing long relationships depicted at the movies, whether they are gay or straight. It's an uphill battle to portray anything that happens later in life, always, which is strange, because the audience is very definitely there.
"It might be rare to love one person all your life now, but it's still what many people are seeking. Marriage is not a daydream, but it can allow you to be spoiled and cantankerous and petulant sometimes, and still be loved. It's good for people to see the reality in a film, not some unrealistic ideal that love is only for the young."
Love is Strange was acclaimed at both the Sundance and Berlin film festivals last year, with the Independent suggesting it to those "who don't fancy sitting through 125 minutes of Fifty Shades of Grey at the cinema on Valentine's Day".
Lithgow and Molina, however, describe their biggest accolade as an award given to them by the American Association of Retired People ( AARP) in Los Angeles last week as "the most romantic couple of the year".
"I am absolutely thrilled by this award," Lithgow says, "and apparently we are the poster boys for love in old age. Our wives find it hilarious, but perhaps this is a small breakthrough for all gay relationships that have survived, without recognition or honour, for decades."
Love is Strange is released in the UK on Friday 13 February.