Ai Weiwei sculptures set auction record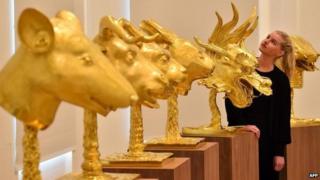 A set of 12 gold-plated animal head sculptures by Chinese artist Ai Weiwei has sold for £2.8m ($4.3m) at auction.
Circle of Animals/Zodiac Heads, which features 12 sculptures representing the Chinese zodiac, set a new auction record for the artist.
Ai has made a number of versions of the zodiac sculptures, but this was the first complete set to come to auction.
Ai's previous auction record of $1.2m (£735,000) was set by Map of China last April.
The zodiac sculptures were inspired by a set of smaller sculptures that formed an 18th Century fountain clock at Emperor Yuanming Yuan's Beijing imperial retreat.
The fountain clock was ransacked by French and British troops in 1860. Ai worked from the seven surviving originals and imagined the five others, using images found in tapestry and print.
"This set of 12 heads continues Ai Weiwei's tradition of re-interpreting cultural objects whilst questioning perceptions of authenticity and value," auction house Phillips said in a press release.
The sculptures, which sold to one of three telephone bidders, were originally purchased from the Paul Kasmin Gallery in New York.
Several larger versions of the same sculptures have been cast in bronze and have been displayed in both New York's Grand Army Plaza and Blenheim Palace in Oxfordshire.
A solo exhibition of Ai Weiwei's work will open at the Royal Academy of Arts in London in September.