Phoenix Nights: Ted Robbins appears in video link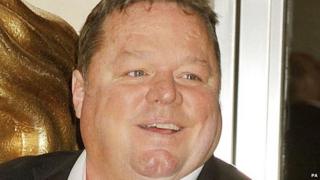 Comedian Ted Robbins made a surprise appearance, via a video screen from his hospital bed, during a rescheduled performance of Phoenix Nights Live, two weeks after he collapsed on stage.
The original show was stopped after the 59-year-old fell to the floor at the 20,000-capacity Manchester Arena.
It was later revealed that he was suffering from a heart condition.
Fans at the rescheduled show saw him appear on a screen at the end, wearing a hospital gown and giving a thumbs-up.
The actor and comedian had collapsed shortly after the interval on the first of 15 planned dates of comedian Peter Kay's stage version of his TV comedy. All profits from the run are going to the Comic Relief charity.
BBC News reporter Ian Shoesmith, who was in the audience for the original and rescheduled shows, said Robbins was seen "laughing and joking around" in his hospital bed.
"At one point Robbins took an oxygen mask and pretended to take a couple of breaths from it, but was just larking around," he said.
"The audience took to him really well and gave him a massive cheer.
"And during the show itself, some of the cast made a couple of light-hearted references to what had happened in the first show."