Oscars 2015: Birdman v Boyhood - did the best film win?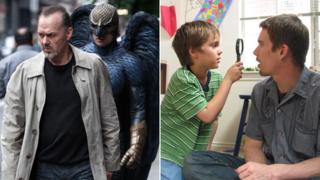 Birdman, in which Michael Keaton stars as a washed-up Hollywood star, has been crowned best picture at the Oscars.
It beat Boyhood, director Richard Linklater's coming-of-age epic that was filmed over 12 years, which had been the hot favourite for the award.
Last month, Boyhood had odds of 1/16 to win best picture with one UK bookmaker, with Birdman a relative long shot at 14/1.
Here, film critics give their views on why Birdman triumphed - and whether Boyhood was robbed.
---
Mark Kermode, BBC 5 live, BBC News and The Observer
"Right up until the moment they opened the envelope, I was convinced that Boyhood was going to win.
"My feeling was it was possible the academy voters would be impressed by the direction of Birdman... I thought they might give the director award to [Alejandro Gonzalez] Inarritu but I was convinced the best picture award was going to go to Boyhood, which I think is a film that will stand the test of time.
"I think Birdman is an accomplished film. I don't love it. I certainly don't love it in the way I do Boyhood. It's very technically impressive. It has a great central performance by Michael Keaton.
"It felt like there will be a pub quiz question in 10 years' time, and the question will be: 'What won the Oscar for best picture the year that Boyhood didn't?' I do feel Boyhood is one of those films that really will go forward over the decades and will go down as a classic."
Mark Kermode was speaking on the BBC News Channel.
---
"I think Boyhood is a more divisive film. I think a lot of commentators who loved Boyhood - and I include myself in that - forgot that actually a lot of people who saw Boyhood thought it was really boring.
"It just depends whether you can accept a movie which is about the everyday and the small moments, as opposed to most films, which are about the extraordinary and the big moments.
"When you have a film that divisive it's never going to win the big awards simply because there are as many people who don't like it as there are who do. So Birdman was a more universally appreciated film.
"Whether anyone was quite as passionate about it I don't know, but generally speaking it ticked more boxes."
James King was speaking to the BBC News website.
---
Helen O'Hara, Empire
"People thought they were neck-and-neck. A lot of people criticised one or the other for the same reason - they thought they were gimmick films, that Boyhood had the gimmick of being filmed over such a long time and Birdman had the gimmick of apparently being filmed in one take.
"I don't think either of those is entirely fair. I think both are more than the gimmick. But supporters of one tend not to support the other quite as much.
"I think the reason that Oscar [voters] connected more with Birdman than Boyhood is simply that it speaks directly to their concerns, to their egos and to their hopes for themselves to some extent."
Helen O'Hara was speaking to the BBC News website.
---
Peter Bradshaw, The Guardian
"The Academy had already come close to disgracing itself by snubbing Ava DuVernay and David Oyelowo from Selma, the film about Martin Luther King. Now it has further failed to distinguish itself with something that is almost another snub - failing to give the best picture award to Richard Linklater's marvellous Boyhood.
"It had the chance to mark out a real classic, and in so doing reinforce the Oscar's own brand-value. But no...
"That said, Birdman is certainly a wonderful movie... Watching Birdman was like knocking back a vodka and tonic. Exciting, brilliant film-making. But Boyhood was better: deeper and more substantial."
Read Peter Bradshaw's full post-Oscar article.
---
Robbie Collin, The Telegraph
"Some are already writing off Birdman's victory as (to coin a wonderful phrase from the Sony Pictures hack) a straightforward "ego bath" for the business - the triumph of a film about show business over a film about real life, represented of course by Richard Linklater's Boyhood...
"But to dismiss Birdman in this way is to wilfully ignore so much that's great about it - not least the way it reimagines film as a kind of hyper-caffeinated theatrical performance that unfolds apparently live before our eyes, throwing out the familiar visual grammar of shots and cuts in a way that makes the experience of watching it feel completely, invigoratingly fresh. And don't forget its considerable satirical bite, either...
"Birdman feels like a film that's with us for the long haul."
Read Robbie Collin's full post-Oscar article.
---
Kate Muir, The Times
"The 2015 Oscars turned out to be about navel gazing, as old Hollywood took an admiring glance at itself and awarded best picture to Birdman, the story of a clapped-out superhero striving for artistic integrity...
"Sadly, the real labour of love, Boyhood, was not properly rewarded. Its director, Richard Linklater, took cinema to a new place, allowing his cast to age in real time over 12 years in the poignant and transcendent coming-of-age story, starring Arquette and Ethan Hawke as parents, and Ellar Coltrane as their son.
"Boyhood is the classic that will be remembered long after Birdman has flown."
Read Kate Muir's full post-Oscar article (subscription required).
---
Plus - some reaction from Twitter