The Oscars 2015 in quotes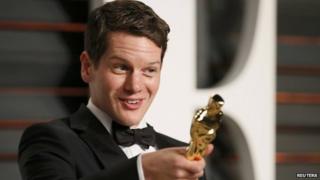 This year's Oscars have been handed out in Los Angeles. Here is a selection of the night's most memorable and unusual quotes from the acceptance speeches, backstage and on the red carpet.
Birdman director Alejandro Gonzalez Inarritu
"Two Mexicans in a row, that's suspicious I guess," he said, accepting the best picture Oscar. He also joked that the academy should bring in "immigration rules" after the success of Alfonso Cuaron for Gravity last year.
He added he was wearing Michael Keaton's underwear, describing the "tighty whities" as a good luck charm that brought him his second Oscar win.
"They are tight, smell like balls. They worked. I am here."
The director told reporters backstage: "Fear is the condom of life."
Actor Sean Penn
"Who gave this son-of-a-bitch his green card?" the actor joked as he presented Inarritu with his best picture Oscar.
The comment sparked outrage on Twitter, but Inarritu saw the funny side.
"I found it hilarious," he said backstage. "Sean and I have that kind of brutal [relationship] where only true friendship can survive.
"When I was directing him in 21 Grams, he was always making jokes like that. We have that kind of relation of old friendship. I thought it was very funny."
Host Neil Patrick Harris
Tonight we honour Hollywood's best and whitest... sorry, brightest"
Getty Images
Introducing Selma star David Oyelowo, who controversially missed out on a nomination for his portrayal of Martin Luther King, Neil Patrick Harris said: "Sure. Now you like him."
He joked that Benedict Cumberbatch was "not only the most awesome name in show business. It's also the sound you get when you ask John Travolta to pronounce 'Ben Affleck,'" referencing last year's ceremony, when Travolta mis-pronounced Idina Menzel as "Adele Dazeem".
Noting that American Sniper had taken $300 million at the box office, Harris explained: "To put that in perspective, everyone on this side of the theatre are the seven other nominees; and American Sniper is Oprah." He added to Winfrey: "Because you're rich."
And introducing Horrible Bosses star Jason Bateman, who began his career on Little House on the Prairie, he said: "He's easily the most well-adjusted former child star in the room."
Graham Moore, who wrote The Imitation Game screenplay
I would like for this moment to be for that kid out there who feels like she's weird or she's different or she doesn't fit in anywhere"
Getty Images
"When I was 16 years old I tried to kill myself because I felt weird and I felt different and I felt like I did not belong.
"And now I'm standing here. I would like for this moment to be for that kid out there who feels like she's weird or she's different or she doesn't fit in anywhere.
"Yes you do. I promise you do. You do. Stay weird. Stay different. And then when it's your turn and you are standing on the stage, please pass the same message to the next person who comes along."
Full Oscars coverage
The Theory of Everything actor Eddie Redmayne
Please know that I'm fully aware I'm a lucky, lucky man
Getty Images
The best actor winner said: "I don't think I'm capable of articulating quite how I feel" but dedicated his award "to all of those people around the world battling ALS" (amyotrophic lateral sclerosis, also known as motor neurone disease).
He described the wet weather before the ceremony as "beautifully British".
Still Alice actress Julianne Moore
"I'm so happy, I'm thrilled that we were able to shine a light on Alzheimer's disease," she said on winning best actress.
"So many people who have this disease feel marginalised. People who have Alzheimer's disease deserve to be seen so we can find a cure."
I read... that winning an Oscar could lead to living five years longer. If that's true, I'd really like to thank The Academy because my husband is younger than me"
Getty
Boyhood actress Patricia Arquette
The winner of best supporting actress addressed her speech to "every woman who gave birth to every taxpayer and citizen of this nation".
"We have fought for everybody else's equal rights. It's our time to have wage equality once and for all and equal rights for women in the United States of America."
Whiplash actor JK Simmons
"I've told this (to), like, a billion people, or so. Call your mom, call your dad. If you're lucky enough to have a parent or two alive on this planet, call 'em. Don't text. Don't email. Call them on the phone. Tell 'em you love 'em, and thank them, and listen to them for as long as they want to talk to you."
Big Hero 6 co-director Don Hall
The winner of best animated feature told the audience: "Once upon a time there was a freckle-faced little boy who told his mom and his dad he was going to work at Walt Disney Animation. And they did something amazing: They supported him."
John Legend, who co-wrote the song Glory for the film Selma
"We know that right now the struggle for freedom and justice is real. We live in the most incarcerated country in the world," the musician told the audience as he collected his Oscar with co-writer Common.
Actress Julie Andrews
The Sound of Music star said: "Dear Lady Gaga, thank you for that wonderful performance" after the singer performed a medley of songs from the musical.
Ida director Pawel Pawlikowski
"Life is full of surprises," he said, on winning best foreign language film.
Comic Andy Samberg
The actor and writer described performing at the Oscars for the first time as "like losing your virginity, you gotta goof it".
The Brooklyn Nine Nine star played Everything is Awesome from The Lego Movie with pop duo Tegan and Sara.