BBC Trust chair Rona Fairhead's HSBC role queried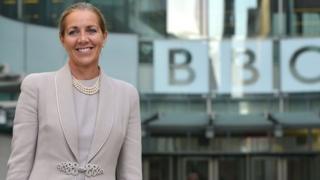 A senior MP has raised questions over new BBC Trust chair Rona Fairhead's role at HSBC while the bank's Swiss arm helped wealthy clients evade tax.
Margaret Hodge, who chairs the House of Commons Public Accounts Committee, said the BBC Trust should "look at" Mrs Fairhead's past on the HSBC board.
"There are clearly question marks arising out of her role," she said.
BBC Trust member Nicholas Prettejohn said the Trust would "take note" of the results of inquiries by regulators.
Mrs Fairhead has been on the HSBC board since 2004 and was chair of its audit committee from 2007.
That was the same year that a whistleblower leaked details of how its Swiss private bank helped clients avoid tax.
'Important questions'
Mrs Fairhead joined the BBC Trust - the corporation's arm's-length regulator - last October.
"This is a really prestigious job, being chair of the BBC," Mrs Hodge told a committee hearing into the BBC's buildings. "The Trust is the guardian of the licence fee revenue and of the public interest in the BBC."
Addressing Mr Prettejohn and BBC director general Tony Hall, she said: "I think given that very important questions are now being asked about HSBC's role in not just aggressive tax avoidance but potential tax evasion, I wondered what due diligence you were now doing."
Mr Prettejohn declined to comment on HSBC but said Mrs Fairhead "appears to be doing a very effective job as chairman" of the BBC Trust.
Asked about due diligence, he replied: "We're not doing anything specifically ourselves."
'Taken aback'
Pressed further, he said: "It was not the Trust's own appointment for the chairmanship of the BBC and therefore it wouldn't be right for us to revisit that decision.
"Secondly, I think there will undoubtedly be a number of inquiries by different regulatory authorities and so on into the affairs at HSBC, and obviously the Trust will take note of the content of those inquiries."
Lord Hall said he would not comment on HSBC but did say the relationship between the BBC management and the Trust with Mrs Fairhead in charge was "a very businesslike and strong and good one and I think she's doing a very effective job".
Mrs Hodge said she was "taken aback" by the fact that Mrs Fairhead had chaired the bank's audit committee, adding: "I don't know whose job it is to look at it [at the BBC], but I think that does raise issues which somebody should be looking at."
In a separate parliamentary hearing on Wednesday, HSBC's chairman and chief executive apologised for "unacceptable" behaviour at the group's Swiss private bank.