Brits 2015: The real winners and losers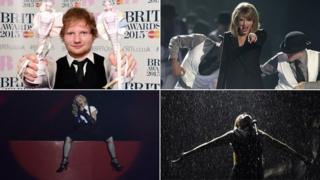 It was a night of tears, cheers, and spectacular, show-stopping falls.
The 2015 Brit Awards saw Sam Smith and Ed Sheeran share the main awards, while Madonna survived intact after being pulled backwards down a staircase by one of her dancers.
But there is more to the Brits than the prizes and performances.
So who were this year's real winners and losers?
Gobbiest acceptance speech
A teary Paloma Faith warned she was going to "gob off" as she walked onstage to collect the prize for best British Female.
"It's taken me 14 years to stand up here and accept this award," said the pop star.
"I used to fly-poster my posters in Hackney for my gigs and I've been arrested twice for doing that, and now I've seen that my pictures are all over Greenwich tube station legally - and that's an amazing feeling."
Confessing she was "a bumbling wreck", Faith went on to thank "the underdogs and all the grafters", which made a refreshing break from people dedicating their awards to their "three managers" (Sam Smith) or "Deirdre" from the PR team (thanks, Ed Sheeran).
Most prescient supermodel
Cara DeLevigne stepped on stage to present the best international male award, she observed: "It's a lot more slippery than you'd think."
Half an hour later, Madonna proved her right.
Best tweet about Madonna
"I used to be a dancer."
"Yeah?"
"I was with Madonna for a while."
"Really?"
"Yup. So, is that a happy meal to go?"
"Yes."
Best recovery
When Madonna hit the deck there was a huge, unified gasp in the press room - but somehow the singer picked herself up and got on with the show.
Her vocals wobbled slightly as she got back on her feet but by the end of the song, she seemed as right as rain. It was an impressive recovery from someone with years of stage experience.
The star later posted a statement on Instagram to reassure fans that she was "fine" and thank them for their wishes.
Most dumbfounded Kanye West reaction shot
A two-way tie between Lionel Richie and Taylor Swift.
Loneliest pop star
Sam Smith wasn't concerned about winning any awards before the ceremony (or so he claimed) - but he did have confess to one big aspiration for the coming year.
"I'd like a boyfriend, if I'm honest," he told the BBC.
"No particular type. I'm easy...
"I mean, I'm not easy. That came out wrong."
Most eloquent deconstruction of the modern music industry
Lionel Richie explained why the internet is killing people's careers.
"The attention span is even shorter now," he said. "Before, people would actually wait nine months to see you, now they've seen all of you in the first three weeks of your career.
"By the time you put your second record out, they don't want to know you any more."
Most eloquent defence of the modern music industry
Ed Sheeran insisted that winning best British album was a sideshow - because commercial success is what matters.
"Giving a statue to one person feels a bit weird," he said. "Everyone in the album category has done so well... Royal Blood have done so much for British rock, Sam Smith is absolutely incredible. And it's funded the next wave of artists.
"Everyone who's just been signed by a record label is being funded by all of us selling records. I was funded by Plan B; Plan B was funded by James Blunt; James Blunt was funded by The Darkness. It goes on."
Starriest photo
This lo-res shot, grabbed by Radio 1's Annie Mac, was the most A-list huddle of night. Left to right, that's Taylor Swift, Kanye West, Sam Smith and Kim Kardashian.
Biggest strop
Ricky Wilson from The Kaiser Chiefs appeared to be in good form, larking around on the red carpet in his sparkly black suit.
But asked whether a contestant from The Voice could ever win a Brit, he replied: "You're the BBC. You're supposed to be better than that". And ended the interview.
Most awkward presenters
Ellie Goulding and Lewis Hamilton went off-script while presenting the best international female prize to Taylor Swift. It did not go well.
"I have to hold myself up. I can't stand properly," said Goulding, looking down at her feet.
"It's the dress," Hamilton observed. "Are you going to a wedding or something?"
"Er, excuse me - yes," she replied. "Ours."
After an excruciating pause, Goulding quipped: "That was a good one."
Hamilton's response? "No."
Most bleary attendees
Little Mix emerged, blinking onto the Brits' red carpet after six months' hard slog in the recording studio.
"We're a little bit nervous," admitted Jade Thirlwall. "We pulled up and we're like, 'oh gosh, it's been so long since we did a red carpet. I've forgotten how to smile!'"
"I've forgotten how to talk," added Leigh-Anne Pinnock. "Even right now, in this interview, I have no idea what I'm saying."
Wettest performer
No contest: Paloma Faith, who sang under torrential rain during her performance of Only Love Can Hurt Like This.
"I'm drenched," she admitted backstage, her hair slicked back as she met the press.
The performance was staged with the help of Wayne McGregor's Random Dance Company.
Paloma explained: "Wayne was my dance teacher when I was 14 and I've waited 19 years to phone him up and say, 'can you do something with me?'. And this was it."
Best joke
Jimmy Carr: "This is, without a doubt, the best episode of CD:UK I have ever seen."
Least private meal
Brit Award guests got a sumptuous three-course meal and their choice from 16,000 bottles of champagne.
The dessert was even a special creation - the Brits sherbet fountain, which consisted of a classic lemon possett recipe dating from the 1600s, alongside pistachio sponge, topped with candied lemon sherbets and a pillow of marshmallow meringue.
But it all must have been too rich for Kanye West, who popped into Nandos for something more basic.
Unsurprisingly, his presence did not go un-noted. The above picture was tweeted by Hannah (@ghostbreathing) who said: "Kanye is at Nandos and said 'I'm just gonna stand here on this table so you can all take your photos' Hahahahaha."
Biggest loser: Anyone who wasn't Madonna
We can talk for days about Ed Sheeran's success, Sam Smith's pristine vocals or Taylor Swift's burgeoning love affair with the UK - but, let's face it, the Brits 2015 will forever be known as the one where Madonna fell over.
Well played, Ms Ciccone. Well played indeed.