Stolen Picasso to be returned to France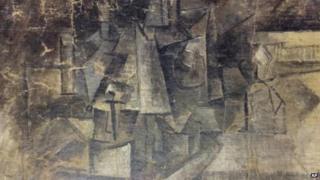 A Picasso painting recovered in New York will be returned to the French government, US officials say.
The Cubist painting, La Coiffeuse (The Hairdresser), was smuggled into the US from Belgium last December in a parcel masquerading as a gift worth $37 (£24).
It was intercepted by US customs and subsequently seized.
Authorities say the 1911 painting, reported to be worth at least £1.6m, disappeared from a storeroom at the Pompidou Centre in Paris.
It was reported missing in November 2001, when gallery officials were unable to locate it following a loan request.
The New York Times reported on 17 December someone named "Robert", with an address in Belgium, shipped the oil painting marked as "Happy Christmas" and labelled as "art craft/toy".
The identity of the person to whom it was sent has not been released.
French officials later travelled to New York and confirmed the painting's provenance.
"A lost treasure has been found," said Loretta Lynch, US attorney for the Eastern District of New York, who filed a civil suit to return the painting to France.
"The market to sell stolen antiquities in the United States is drying up," Anthony Scandiffio, deputy special agent in charge of Homeland Security Investigations, told the New York Times.
The painting, part of the Musee National d'Art Moderne collection, was last on display in Munich in 1998.